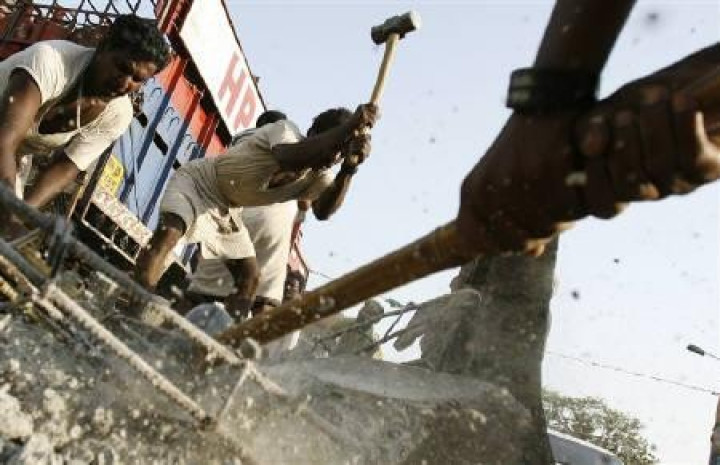 India's stock market regulator SEBI has approved real estate investment trusts (REITs) and Infrastructure Investment Trusts (InvITs) in a move that will ease the access to funds for developers and open up new investment avenues to Indian as well as foreign investors.
Jaypee infratech rallied about 4.5% to 35.10 rupees and DLF, a major developer, rose 3.3% to 200.55 rupees, on Monday, aiding the main stock indices rally more than 0.70%.
Indian rupee strengthened to 61.03 against the dollar from 61.15 as exporters sold dollars.
REITs shall be registered as a trust with the Securities Exchange Board of India (SEBI). The trust can invest in commercial real estate assets, either directly or through special purpose vehicles.
In the case of investment vehicles, a REIT shall hold controlling interest, and the SPVs shall hold not less than 80% of its assets directly in properties and shall not invest in other SPVs.
REITs first have to raise funds through an initial offer and there can be follow-on offers, rights issue, qualified institutional placement, for additional funding.
The minimum subscription size for units of REIT shall be 200,000 rupees ($3,280 as on 11 August) and the units offered to the public in initial offer shall not be less than 25% of the number of units.
The units of REITs shall be mandatorily listed on a recognised stock exchange and the trading lot will be 100,000 rupees.
The minimum value of the assets for an REIT shall be 500 crore rupees ($82mn) and the minimum issue size for initial offer shall be half of it.
Not less than 80% of the value of the REIT assets shall be in completed and revenue generating properties but investments in developmental properties shall be restricted to 10% of the total trust value.
A REIT shall invest in at least two projects with not more than 60% of value of assets invested in one project and shall distribute not less than 90% of the net distributable cash flows, at least on a half yearly basis.
Computation and declaration of net asset value (NAV) should be done on a half yearly basis.
The borrowings and deferred payments of the REIT at a consolidated level shall not exceed 49% of the trust value.
InvITs
Trusts in the infra sector are also allowed to invest directly or through SPVs, but in case of PPP projects, only the SPV route is allowed.
If any regulation relaxes the minimum SPV holding of an InvIT below 50%, the there should be special rules to protect the unit holders' interest, the regulator has instructed.
The minimum asset size and IPO size for an InvIT is also 500 crore and 250 crore rupees respectively as in the case of an REIT.
Some special conditions for investing in under-construction projects for InvITs, separately for PPP (public private partnerships) and non-PPP projects.
The PPPs must have completed at least 50% as certified by an independent engineer; or has expended not less than 50% of the total capital cost set forth in the financial package of the relevant project agreement.
Non-PPP projects must have received all the requisite approvals and certifications for commencing construction of the project.
Listing is mandatory for both publicly offered and privately placed InvITs similar to REITs.