Activity in India's services sector accelerated at its fastest pace in 17 months in June as new business poured in, according to a survey.
The HSBC/Markit Services Purchasing Managers' Index (PMI) shot up to 54.4 in June from 50.2 in May, suggesting Asia's third-largest economy is gaining momentum despite inflationary pressures.
Prior to May, the services PMI had hovered below the 50 threshold, which divides growth from contracting activity, for about a year.
In addition, a gauge of new orders jumped to 54.3 in June, the highest since February 2013.
The survey's results also showed that input prices rose at their fastest pace in five months, but that companies passed on only a small portion of the increased cost to consumers.
The data underscores the growing optimism within corporate India that Prime Minister Narendra Modi's regime will roll out reforms to boost growth in India, suffering its worst slowdown in 25 years.
That optimism has fuelled a stock market rally and the nation's benchmark S&P BSE Sensex share average has surged 22.15% or 4683.27 points this year.
Modi Wave
Frederic Neumann, Co-Head of Asian Economic Research at HSBC said in a statement: "After months of subdued activity, the Modi wave has struck the service sector and lifted growth to a 17-month high. New business flows and stronger business sentiment supported the rise. Some of this is simply pent up demand being unleashed. As we move along, faster reforms due to political stability should fuel the momentum. Be sure to expect some bumps along the way, as tensions in the Middle East and the absence of monsoon clouds play spoil sport."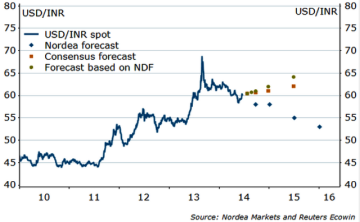 Nordea Markets said in a note to clients: "For the remainder of the year, we expect the INR to move sideways around 58 vs the USD. Large downside risk comes from fear of oil supply disruptions in Iraq. India imports two-thirds of its oil consumption and is highly sensitive to oil prices.
"In addition, with the sluggish growth in mind, the [Reserve Bank of India] is not interested in a large near-term gain in the INR. Lately, foreign capital has returned to India and put upward pressure on the INR. The RBI was spotted buying dollar in the market to cap further upsides in the INR."
"Newly elected Prime Minister Modi has teamed up with Arun Jaitley, the new finance minister who is committed to reviving foreign investment and reducing the fiscal deficit. Given Modi's huge election win, his administration has a sufficient mandate to push for growth-promoting reforms," Nordea added.
A separate HSBC/Markit survey on 1 July revealed that Indian manufacturing activity expanded at its fastest pace in four months in June, just as the output prices index jumped to an eight-month high, suggesting inflation could rise further.
The RBI has hiked interest rates thrice, since September 2013, to battle high inflation.