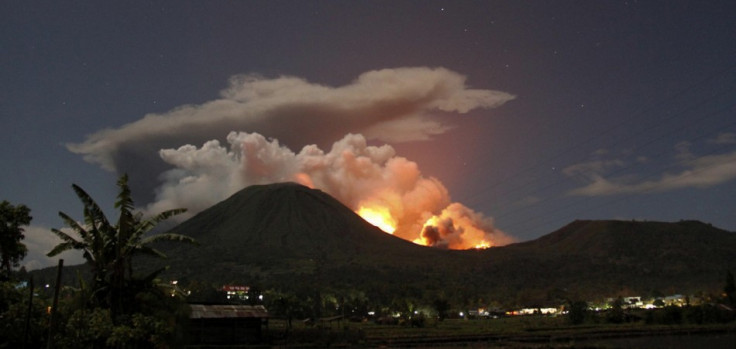 A volcano in central Indonesia has sent thousands of residents fleeing from their homes as it spit lava and ash high into the air.
Following the scare, one woman died of a heart attack, but no other casualties were reported.
Mount Lokon, located in northern Sulawesi province, took the population by surprise with its first powerful eruption at 10:46pm on Thursday, said Brian Rulrone, a disaster management agency official.
That eruption was followed by a second just after midnight and a third at 1:10am on Friday.
Lava cascaded from the mouth of the crater, triggering forest fires along its western slope, according to Ferry Rusmawan, an official at the nearest monitoring post, who said activity remained high and another eruption appeared imminent.
The 1,750m (5,741ft) mountain continued to rumble late on Friday morning.
Soldiers and police helped rescuers evacuate residents living along the mountain's fertile slopes, said Jimmy Eman, the acting mayor in the nearby town of Tomohon, before confirming that the only victim so far was the 56-year-old woman who died of a heart attack.
More than 6,000 people who fled their homes found shelter in schools, churches and other emergency infrastructure set up especially for the occasion.
Authorities said more than 27,000 people living within two miles (3.5km) of the crater would also have to move and evacuate the area.
"This is the largest eruption I've ever experienced," said Nelson Uada, who was among those evacuated overnight, told the BBC.
"It was very scary. Glowing lava flowed like flames in the darkness and it sounded like we were in a war."
Flights to the nearest international airport in Manado, the provincial capital, were not disrupted, said Lucky Podaag, an airport spokesman.
Indonesia's vast archipelago of 240 million people is prone to earthquakes and volcanoes because it sits along the Pacific Ring of Fire, a horseshoe-shaped string of faults that lines the Pacific Ocean.
Mount Lokon, which has been on high alert for nearly a week, is one of the country's 129 active volcanoes and its last major eruption in 1991 killed a Swiss hiker and forced thousands of people to flee their homes.