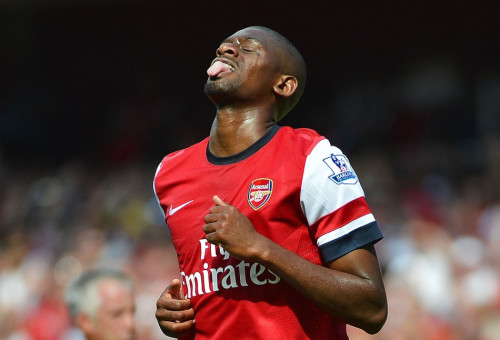 Arsenal midfielder Abou Diaby may not play this season having suffered yet another injury setback, according to Arsene Wenger.
The France international has been hampered by a string of long term injuries during his time in north London and as a result has started just 10 Premier League games in the past three seasons.
The 26-year-old ruptured his anterior cruciate ligament which required surgery in March 2013 with an initial prognosis suggesting the midfielder was facing nine months on the side lines.
A return to first team action was suggested earlier this season but Diaby is still a long way off a return and might not salvage anything from the 2013/14 season.
"His recovery is going very slowly," Wenger told a press conference on Friday.
"Will he play again this season? I don't know. He is still on a long term recovery programme."
Prior to his setback last year, Diaby's career at the north London club had been blighted by a string of unfortunate injuries. The Frenchman managed just 27 appearances during his first two years of the club due to a string of ankle problems, undergoing three surgeries in that time to rectify the problem.
The former Auxerre youngster returned to enjoy a successful 2010/11 campaign were he maintained his presence in midfield throughout, but injury struck again the following season and he was limited to just four substitute appearances for the Gunners.
Diaby returned at the start of last season and looked to have put his troubles behind him with a Man of the Match performance against Liverpool, but was side lined weeks later after taking a knock in a clash against Chelsea.
His return the following January lasted just two months when he tore anterior ligaments. The midfielder has spent most of the current season undergoing extensive rehabilitation in Dubai, but there is yet to be a predicted return date from either the club or Diaby himself.