The risk of sudden injury to star football players is a permanent fear of professional sports teams and managers alike. But a new technology from SAP aims to use huge catalogues of data and its HANA cloud platform to make injuries less likely – and even preventable. Shown to IBTimes UK ahead of its launch in South Korea later this month (August 2015), Injury Risk Monitor from German software company SAP may look and feel like the stats page of the Football Manager computer game, but is claimed to genuinely help coaches and medical staff look after players more effectively.
Using data collected from sensors worn by every player – along with statistics collected from a player's entire career and held on SAP's HANA Cloud Platform – Injury Risk Monitor gives a percentage to indicate how likely each player is to injure themselves in their next match. The demonstration we saw showed a fictional football team, but the system could be used for almost any team sport.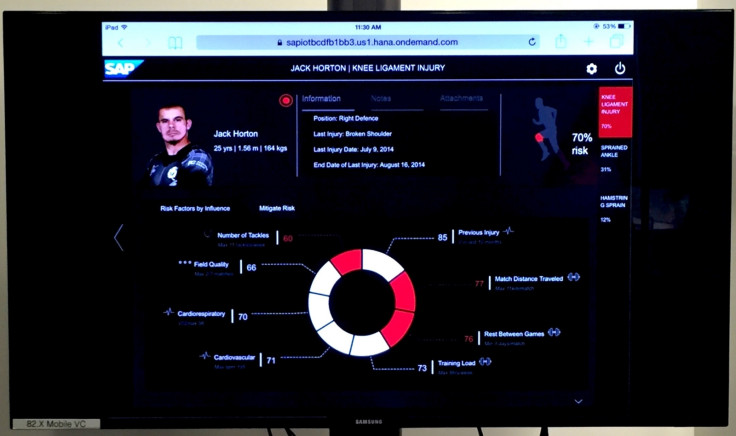 The system takes into account how fit each player is, based on their diet and exercise regime, along with the date of their last injury, and how long they usually take to recover from a variety of injuries. An icon is then shown next to each player to say whether they are perfectly fit, have a chance of being injured in the next game, or should not be played.
'Some injuries are preventable'
Gathering data from wearable sensors monitoring movement and heart rate, the system adjusts its injury estimates each time an individual plays or exercises. During a demonstration, we saw how the chance of a player being injured was lowered slightly after they exercised, proving they were fitter than the software predicted. Data is streamed via Wi-Fi from players to pitch-side computers, then sent to SAP's HANA Cloud Platform, where it is digested before being sent back down to the manager's iPad on the touchline.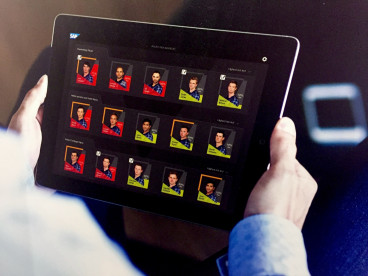 SAP admitted that, as with most technologies in development at its Palo Alto, California labs, the Injury Risk Monitor is only a proof of concept for now. However, the company said it plans to aggressively enter into this sector of the sports market. It is also incredibly scalable: the system can log data from thousands of players at once if necessary, although in reality no more than a few dozen would need to be recorded at once.
Additionally, SAP expects to mine data from sensors already worn by NFL football players for measuring impact forces during tackles.
Working with all the data it can get its hands on, SAP believes that "some injuries are preventable, like when the player becomes overloaded, or when he has some weakness in his muscles [from a previous injury or the hangover from a recent match]".