Android smartphone boom sees over 24,000 distinct models in use worldwide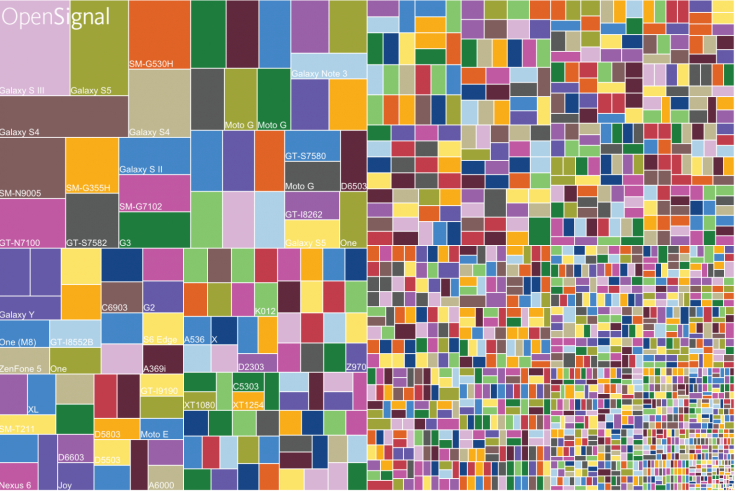 There are now over 24,000 distinct Android devices in use around the world from over 1,000 different manufacturers. Android fragmentation continues to gather speed as the number of devices in use around the world continues to grow while the number of manufacturers making these smartphones and tablets has grown exponentially from less than 300 in 2012 to almost 1,300 today.
In the last 12 months alone the number of distinct Android devices on the market has grown by 33% from 18,000 in 2014 to over 24,000, and in the last 24 months the total has more than doubled from 11,868 devices in 2013.
The data comes from OpenSignal, which crowdsources the information through its Android app that connects people with Wi-Fi networks in their vicinity.
With the UK now officially a smartphone nation – according to Ofcom's Communications Market Report 2015 at least – it is not surprising that the number of different devices on the market is growing. What is somewhat surprising however is how quickly the number of manufacturers producing these devices is rising.
While Samsung is far and away the leading manufacturer with a 37% share of the market, its lead is declining from the 47% share it held in 2012. These figures line up with Samsung's own declining revenues from its mobile business as it struggles to compete at the high end with Apple, and at the budget end of the market with manufacturers like Xiaomi, ZTE, Huawei and OnePlus, who are among the hundreds of manufacturers from China making a significant impact on the market.
Samsung's Galaxy range of smartphones continues to be the most popular on the market, followed by LG's G range, Sony's Xperia Z line-up and Motorola's budget Moto G smartphones – the most recent of which was launched last week.
Smartphone screen size in unsurprisingly growing with most looking for devices between 5in and 5.5in while smaller tablets around 7in in size are much more popular than the bigger 10in devices.
OpenSignal says in its report: "This year we see a continuation of the trends seen in previous reports; more devices and more differentiation between the devices out there. One big thing we've noticed this year is the increased fragmentation of manufacturers, with over 1000 manufacturers seen this year that we did not see in 2012 when we first published this report."
The report is based on data from a sample of 682,000 devices which downloaded the OpenSignal app, which is identical to the sample from previous three years.
© Copyright IBTimes 2023. All rights reserved.