This year was set to be a bumper time for Israel's tourism sector and the laid back beachfront city of Tel Aviv had been pegged to be at the forefront of expected growth.
A million visitors passed through the city in 2013, according to Tel Aviv Municipality, with 70% of them foreigners.
That expansion was halted abruptly when Israel launched an offensive on Hamas militants in Gaza, resulting in a 50-day war that left 2,200 Palestinians dead, most of them civilians.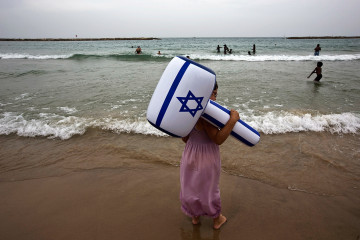 As well as an aerial campaign, Israel sent in ground forces and 66 of its soldiers were killed in the conflict, as well as seven civilians.
As Hamas rockets reached Tel Aviv, foreign tourists cancelled their planned trips in vast numbers. Hotels reported major drops in occupancy rates for July and August, as low as 10% in some cases.
While the hotels took the immediate hit, some secondary businesses that rely on tourists for income suffered equally.
July and August are the peak season for foreign visitors and the wave of cancellations hit cafes and diners hard.
Ayelet Barnea, General Manager at Italian Trattoria Mel and Michelle, told IBTimes TV that the restaurant had lost its main customer base and that she didn't expect a recovery until April 2015.