Just nine days after winning the 2014 Formula One Constructors' World Championship, an air of calm glides across the Mercedes AMG team's headquarters in Brackley, Northamptonshire. Radio 2 plays quietly in the background as a group of journalists, including IBTimes UK, is given a tour of the factory.
But beneath the calm surface an 800-strong workforce is still waging war on multiple fronts. Its two drivers, Lewis Hamilton and Nico Rosberg, have a near-unassailable lead in the Drivers' Championship, but with just three races remaining either man could be crowned champion.
With one eye on making sure its drivers don't take each other out, the team is also focused on designing cars for both the 2015 and 2016 seasons at a factory that literally never sleeps. The drivers are the ones who ultimately cross the finish line, but they represent the mere tip of a technological iceberg.
Working Around the Clock
During our visit we saw where the team's two cars are designed, constructed, tested and redesigned in a never-ending, 24-hour cycle. Apart from Christmas and a mandatory two-week summer holiday, staff work across five different shift patterns to keep the factory running around the clock, seven days a week.
On average a design change is made every 20 minutes. This could be an improved suspension component, a new aerodynamic element, or a fine adjustment to any one of the 5,000 parts that make up a Formula One car. For aero parts alone the company has a wind tunnel that runs for 30 hours every week - a limit imposed by the sport's governing body, the FIA.
Race Support Room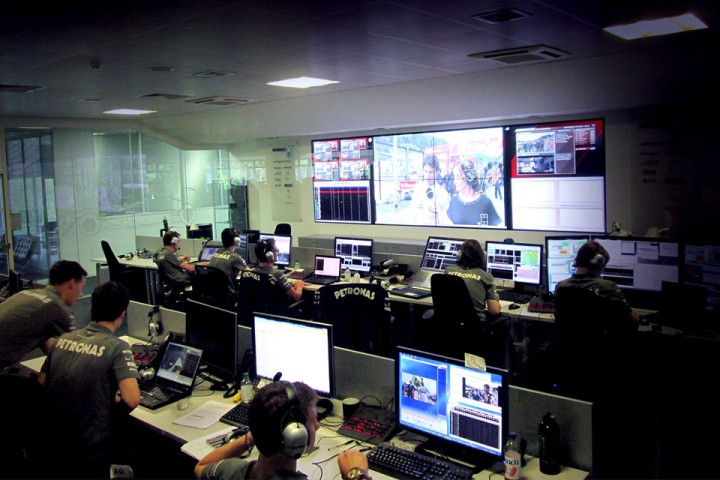 Because F1 teams are forbidden from taking more than 65 employees to each race, they have operations rooms at their headquarters where data, communications and video can be live-streamed by satellite from racetracks anywhere in the world. Each of the 30 team members in this room wears a headset to talk with the drivers, engineers and mechanics at the circuit.
Three of eight huge screens display live broadcast coverage from the Sky Sports F1 channel, while the other five show the drivers' lap and sector times, plus real-time data from their cars, such as tyre temperatures and pressure, oil temperature, speed, fuel efficiency, brake temperatures and much, much more.
In all, there are 35,000 individual channels of data beamed from the track to Mercedes HQ, and while encrypting this would make receiving it too slow, the team uses 200 phones provided by sponsor BlackBerry to ensure conversations between management and engineers are encrypted and secured from rivals who may try to listen in.
Precision Engineering
It goes without saying that threading a multi-million-pound car between barriers and rivals at up to 200 miles-per-hour takes precision, but the engineers back in Brackley take this to another level. The team's CNC milling machines, used to create engine, clutch and gearbox components from blocks of aluminium and titanium, are accurate to five microns ‒ that's five one-thousandths of a millimeter, or 14 times less than the width of a human hair.
This attention to detail is shared by every member of staff, and as executive director Toto Wolff explained, every job, no matter how small, contributes to the team's performance.
"What you see on the racetracks is just the tip of the iceberg. There is such a big structure below it; 90% of the car's performance is being done in the factory and even the tiniest of jobs is important. Each of us has an opposite number in the other organisations and you shouldn't forget that. You might be thinking you are just adding a little bit to the car's performance but if you do your job better than your opposite number in the other team, that brings lap times down. You know, it drives me nuts to see a dirty entrance to the building because I want everyone to come here and say 'Wow, that's how I expect a Formula One team to function.'"
The Pursuit for Speed, Even While Stationary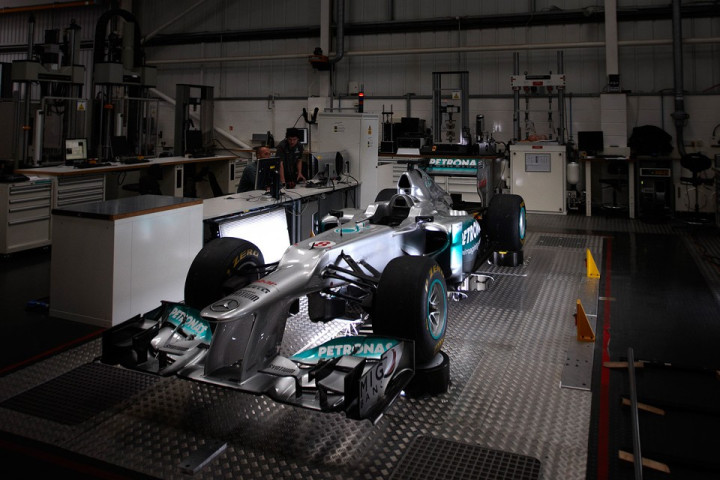 In the old days of refuelling, there wasn't much emphasis on speedy wheel changes, but now refuelling is banned, the pressure is on for the mechanics to perform the change quickly, and for engineers to create wheel nuts and pneumatic guns that are faster than their rivals'. By using nuts that are tightened in a single turn, the team can change all four wheels in just 1.5 seconds during practice, although they aim for a more pedestrian 2.5 seconds during races, where a fluffed change can cost them victory.
Light and Simple
Carbon fibre is the most widely-used material on a modern F1 car. Introduced by McLaren in 1981, the material is woven into sheets that are then layered on top of each other into the desired shape and baked in an oven at 180°C and under 90 bar of pressure. The final product is incredibly strong, but light; sheets used by Mercedes AMG are just 60gsm ‒ lighter, per square meter, than regular printer paper. This means we could easily pick up the entire floor (which covers most of the length and width of the car) in one hand, due to the £80,000 piece weighing just 10 kg.
The cockpit is the most complex carbon fibre component and takes two days to manufacture, compared to just three hours for a foot-long suspension wishbone. If a part fails, or isn't performing properly, Mercedes aims to move from a drawing-board redesign, through the creation, testing and modification stages, to completion in an average of 18 days.
Once all 5,000 parts have been produced, the team can assemble a car from a bare cockpit to race-ready in just seven hours ‒ a feat they achieved at this year's Hungarian Grand Prix when Hamilton's car suffered an extensive fire during qualifying.
A Team Sport
Formula One is first and foremost a team sport, and while the drivers may earn the highest salaries and appear in the most newspaper headlines, the engineers at Brackley and their opposite numbers up and down the paddock earn every trophy and World Championship point alongside them.
The next F1 Grand Prix takes place in Texas, USA on 2 November.