Northern Ireland is selling a heavily fortified secret nuclear bunker that dates back to the latter stages of the Cold War. If you have a spare half a million pounds or so, you could be the owner of the nuclear fallout shelter – never used, excellent condition. Construction began in 1987 and it was completed in 1990, just after the fall of the Berlin Wall when the Soviet Union was beginning to dissolve. Its existence was a state secret until 2007.
The discreet facility is buried within a mound of earth on an anonymous industrial estate on the outskirts of Ballymena, County Antrim. Protected by three air-tight blast doors and one-metre-thick concrete walls, the shelter contains dormitories, kitchen facilities, an emergency BBC broadcast studio and decontamination chambers. In the event of a nuclear attack, the shelter could house 235 VIPs and support staff for 30 days. The unusual property is on sale for around £575,000. Potential buyers might like to know that it comes with all original fixtures and fittings, including tins of long-life processed food. Here, IBTimes UK takes you on a guided tour of the bunker.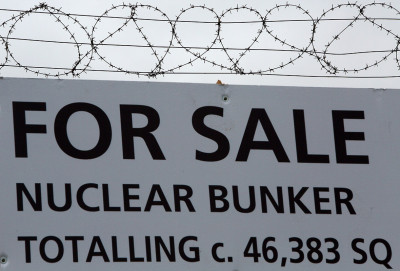 Andrew Fraser, of Lambert Smith Hampton estate agents, said the unusual property could be used as a museum or secure storage facility – or for its original purpose. It could also be turned into a home.