Over the years, photo-sharing app Instagram has rolled out numerous updates to keep its 800 million userbase protected from internet trolling and online abuse.
This week (26 September), it announced two more: anonymous reporting for live video streaming and a way for users to choose exactly who can comment on their posts.
Instagram's co-founder and chief executive officer (CEO), Kevin Systrom, said the changes were a way to keep the platform a "positive place for self-expression".
Now, users with public accounts will have greater control over who can put messages under their posts.
Previously the comment section under images or videos could only be switched off completely.
All users on the service will now also have the ability to block accounts from commenting altogether.
Since it was released back in 2010, the app has become the go-to place to share photos and videos – spiking in popularity in part thanks to its use of filters.
The service was purchased by the social network Facebook in 2012 for $1bn.
"Since the beginning, we've tried to make Instagram a welcoming place for everyone," Systrom wrote. "Our community has grown to 800m, with 500m using it every day. It's more important than ever to strengthen our commitment to safety and kindness."
Additionally, Instagram's anonymous video reporting will be introduced to let users flag broadcasted content including users "going through a difficult time".
Once clicked, the person will reportedly be given options to talk to a helpline, reach out to a friend or get other tips and support. Instagram said that it has teams which are able to respond "24 hours a day, seven days a week" to help provide mental health resources.
The platform's parent company Facebook has in the past been criticised for helping to facilitate the live streaming of murder, torture, sexual abuse and suicide.
On a lighter note, the platform also touted a new scheme called Kind Comments, which will showcase inspiring content from the artistic community around the world.
A new "kindness-themed heart-shaped sticker" can be added to comments.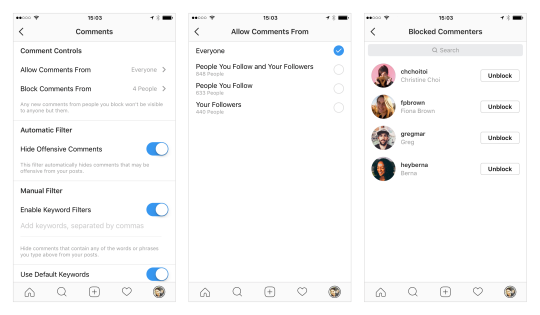 In June 2017, the platform launched a new AI-powered algorithm would could help block offensive comments in English, Arabic, French, German and Portuguese. The system built upon basic filtering first tested back in 2016, but it was updated and turned on by default.