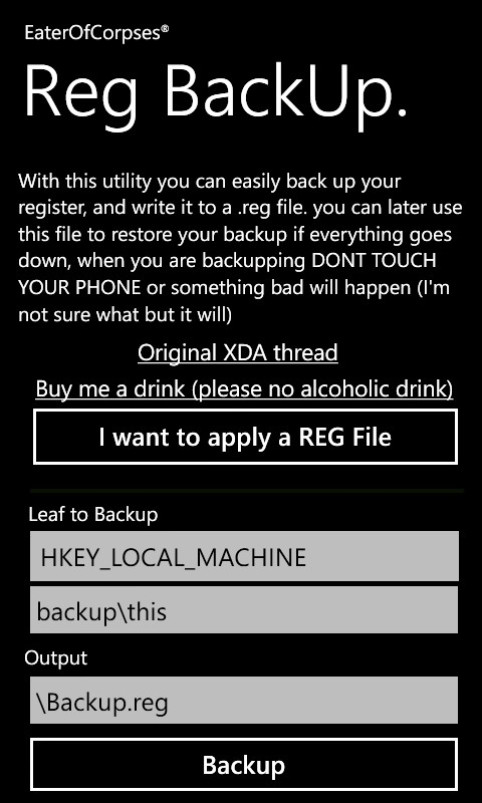 The Windows Registry is the main component of the devices that run a Microsoft operating system. Whether users are using devices such as Windows Phone 7 or Windows 8 PC, the registry stores the configurations and settings from the operating system to any number of third party apps. XDA forum member known as EaterofCorpses has released the Reg Backup app; Windows Phone 7 users can now back up their registry with ease.
"Easy to use, you select the hyve, fill in the path and fill in the output and press backup! That's it, now copy the backup to your PC and its safe," claims forum member.
Check out the steps below to install Reg Backup app on your Windows 7 phone:
Launch the app
Fill in the path you want to backup
Fill in the path of the backup
Tap on Backup. You will now see a message saying "Backup Completed"
You have successfully installed the Reg Backup app.
Using the Reg Backup, utility users may easily back up their registry and write it to the .reg file. Users can use this file later to restore the backup. Do not interrupt the backup process, as doing so may result in unwanted consequences.
Windows 7 comes with a number of features such as HomeGroup, Jump Lists, Snap, Windows Essentials, Windows Search, Windows Taskbar, full 64-bit support, Remote media streaming, Windows Touch, Power management, Windows Anytime upgrade and more.
Microsoft announced 10 Windows Phone 7 handsets in October 2010. The handsets include HTC 7 Surround, HTC HD7, HTC 7 Trophy, HTC 7 Mozart, Dell Venue Pro, Samsung Focus, Samsung Omnia 7, LG Optimus 7/7Q, LG Quantum and HTC 7 Pro. The devices have been made available in 30 countries with different carriers.
[Information Courtesy: XDA Developers' Forum]