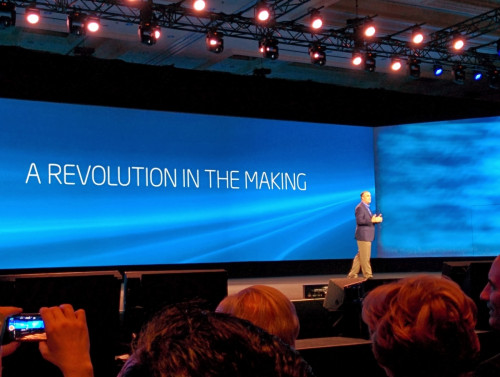 Brian Krzanich has been in his position as CEO of the world's biggest chip maker for just six months, but the 53-year-old has big plans for company in the wearable market, having missed the boat completely on the mobile revolution.
When the iPhone launched in 2007, Intel failed to recognise the impact this was going to have on the world of computing. It decided to stick to its core PC and laptop chip offerings and ignored the smartphone and tablet revolution.
Six years later and Intel freely admits it got it wrong. It's attempts to get into the mobile and tablet space have been futile as the low powered ARM-based designs dominate, powering the vast majority of Android smartphones and tablets, and all of Apple's mobile devices.
Bet Big on Wearables
Krzanich seems very eager not to make the same mistake with the next big revolution in computing - wearables.
As Mooly Eden, the head of conceptual computing at Intel said earlier at CES 2014, computing will no longer be something we hold in our hand, but something we carry on us all the time.
Or as Krzanich puts it: "From a world of screens and devices to a world of immersive experiences."
To help drive this wearable computing revolution forward, Intel has introduced Edison, a complete computing system in the form factor of an SD Card which will be available to manufacturers in the middle of 2014.
Rapid Expansion
Built on Intel's 22nm Trigate technology, the tiny chip will be ultra low power and includes support for Wi-Fi, Bluetooth low energy, an app store, Linux open source and has in-built security.
"We believe Edison will enable rapid expansion and rapid product development," Krzanich said.
Krzanich said he and his colleagues asked themselves why wearables were not everywhere yet, and the answer was that the current devices don't integrate all the features you want - you still need to have something else with you.
Intel's answer was to "make everything smart."
It revealed four new products which it said will be available this year which aim to solve this problem and drive other companies to produce similar devices:
Smart earbuds: These headphones integrate a heart rate monitor into the earbuds meaning you don't have to carry a separate device to monitor your heart rate. Another innovation is the ability to charge the heart rate monitor using the microphone jack on your phone.
Smart headset (Jarvis): This device works with your smartphone but without having to pick up your phone or even touching it. The headset will integrate with other personal assistants such as Siri, and is activated by simply saying: "Hello Jarvis." Intel's own personal assistant works with your calendar and contacts and will interrupt you "politely" to remind you about meetings as well as understand natural language requests.
Smart charging bowl: Attempting to solve the problem of charging multiple devices including wearables and smartphones, Intel created the smart charging bowl. Simply drop devices into the bowl and they will start charging immediately.
SmartWatch: Of course Intel had to produce a smartwatch with its model having all the features you would expect from a typical smartwatch. However it has several unique features, including having its own network connection, meaning it can work without a smartphone. It also has smart geo-fencing which will track the users position and, for example, alert a parent if their children leave a pre-defined area - such as their route to school.
Intel also announced partnerships with the fashion industry (Barneys, CFDA, Opening Ceremony) to work on creating wearable technology bracelets - echoing the announcement by CSR earlier in the week about its range of smart jewellery.
Krzanich also announced a contest inviting people from across the globe to create the next wave of wearable devices. It will offer $1.3 million in prizes with $500,000 for first place.
The top 10 entries will be connected with industry players and experts at Intel to help bring their products to market.