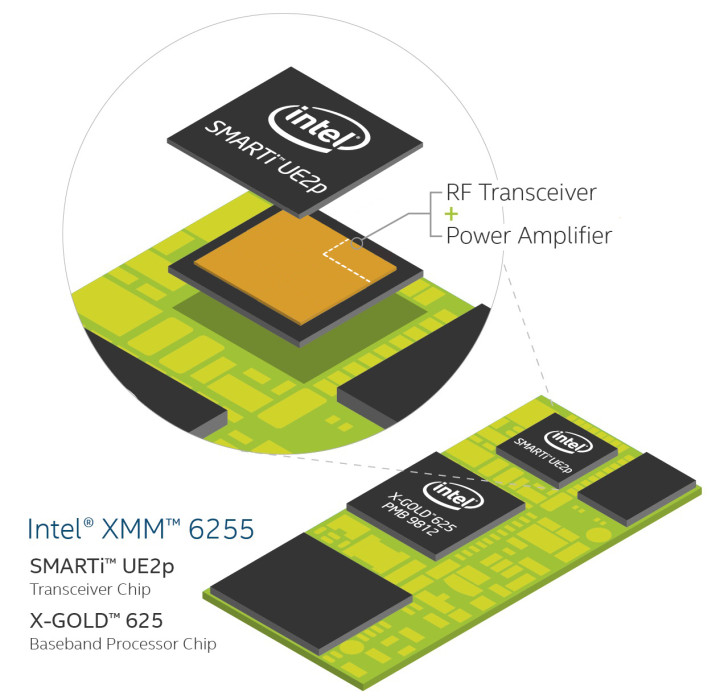 In what could be viewed as a major boost to mobile computing and the Internet of Things, PC chip manufacturer Intel has taken the wraps off its XMM 6255 3G modem that is claimed to be the 'world's smallest 3G modem,' with dimensions equivalent to the size of a UK penny.
Interconnect devices
The Intel XMM 6255 consists of a single chip that interfaces a device to a wireless network. This interface can in turn link to other secondary devices, and thereby interconnect the network of devices, to the external wireless network and the internet.
"We commercially launched the XMM™ 6255 modem to provide a wireless solution for the billions of "smart" and connected devices that are expected in the coming years. At about 300 mm2in size, it is the world's smallest standalone 3G modem, making it perfect for networked sensors and other IoT applications such as wearables, security devices and industrial equipment," states Intel, in an official press release.
Intel's XMM 625 chip is fitted on a chip board that is said to be 300 square meters in size, thus making the entire assembly, including the outer package, a really small unit.
Designed for small devices
Intel's 3G modem looks custom-made for gadgets such as smartwatches that normally incorporate very small outer form factors which naturally eliminates spacing for a 3G antenna.
XMM 6255, with its miniscule form factor, should do well to fit in future smartwatches and thereby provide 3G connectivity to owners of these gadgets.
"The XMM™ 6255 modem is specially designed for such devices and delivers great 3G connectivity even with small volume antennas not meeting conventional mobile phone quality standards", adds Intel.
Integrated Components
Intel's XMM 625 3G modem packs in an integrated transceiver and power amplifier, which naturally leads to lower manufacturing costs, and future innovations which could herald devices designed by keeping in mind the small 3G modem, more than anything else.
Also, with specialised sensors designed to sync with the Internet of Things, users of devices incorporating the Intel 3G modem, should be able to get information even in the most remote areas.
These sensors work in tandem with the integrated transceiver and power amplifier assembly.
Communication even in low-signal scenarios
Intel states that its XMM 625 3G modem has been designed by keeping in mind communication in low-signal areas.
The modem is said to be capable of transmitting information even in very low signal areas such as the basement of a building.
Users in these areas should be able to connect their devices to the cloud via 3G signals, with the Intel XMM 3G modem.
"XMM™ 6255 is currently available in the u-blox SARA-U2 module and we expect to have updates on additional partnerships in the coming months," states Intel.