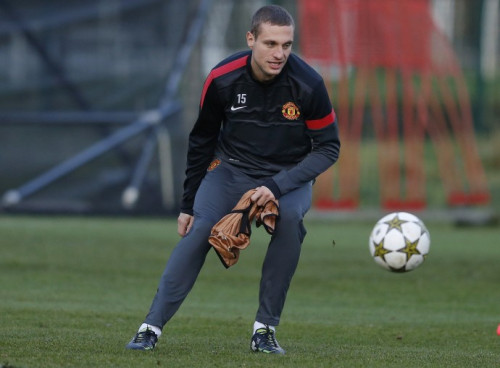 Inter Milan have confirmed their interest in signing Manchester United defender Nemanja Vidic in the summer after the centre-back's contract expires at the end of the season.
The 32-year-old has announced his decision to leave the Premier League champions after the end of current campaign in search of a new challenge in another league. United manager David Moyes revealed that it was a mutual agreement in allowing the Serbian defender leave Old Trafford.
The Serie A club's director Piero Ausilio has revealed that Inter would be keen on bringing Vidic to San Siro. However, the Italian outfit's chief confirmed that they are far away from sealing a deal in signing United skipper.
Vidic has less than six months left on his contract and he is allowed to enter into pre-contract negotiations with a foreign club.
"Vidic is an important player whose contract expires in June. Like other European clubs, we will try to get something from this great opportunity. He is one of the players we are tracking. He has an interesting profile for Inter as he has charisma and international experience," Ausilio told Tuttosport.
"We will probably lose some players in his role because their contracts are up so he is someone we are trying to pay attention to. However, we're a long way from saying we've already done something with regards to Vidic and I don't feel ready to confirm anything."
Meanwhile, Fulham manager Rene Meulensteen claims United's game plan was straightforward during their 2-2 draw at Old Trafford on Sunday. Steve Sidwell gave the visitors an early lead in the first half.
United dominated the game and delivered over 80 crosses. Moyes saw his men bounce back as two quick goals from Robin van Persie and Michael Carrick saw the hosts take the lead. However, a defensive error saw Darren Bent but Fulham on level in stoppage time.
"I don't think there was any lack of belief. Their game plan was quite straightforward. It was get it wide, get it in. We defended it well. If you're well organised and the goalkeeper is in good positions, then it can be easy," Meulensteen explained.
"You need creativity, variety to open them up. They haven't picked up the points in the games where they should have picked up the points," he added.