At first, an iPhone dock that can make calls through may sound like a strange product, but the AudiOffice from Invoxia offers much more than that, with a sleek Apple-inspired design, impressive sound and Bluetooth connectivity.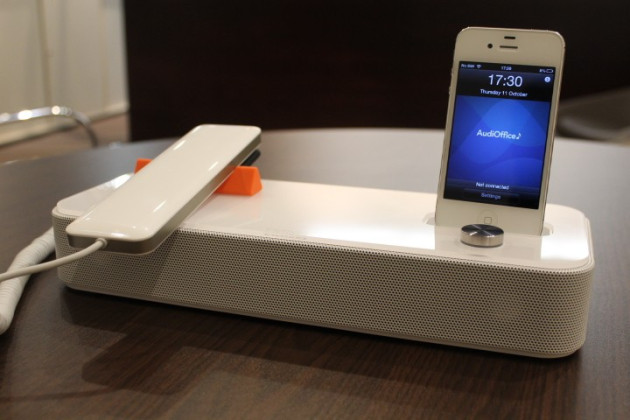 We looked at another one of Invoxia's iPhone docks last year - the NVX 610 desk phone - and found it to offer great sound quality with an air of class, but the £417 asking price plus VAT was enough to turn us away.
Now though, with the AudiOffice Invoxia is aiming more at music than high-end conference call tech, and as a result this almost identical - at least in appearance - dock retails for around £300.
There's no escaping the fact that the AudiOffice is gorgeous. With it's sleek, glossy white finish (which matches your iPhone, of course), the dock looks great on any desk and we reckon you could kid anyone that it's made by Apple - such is the quality on offer here.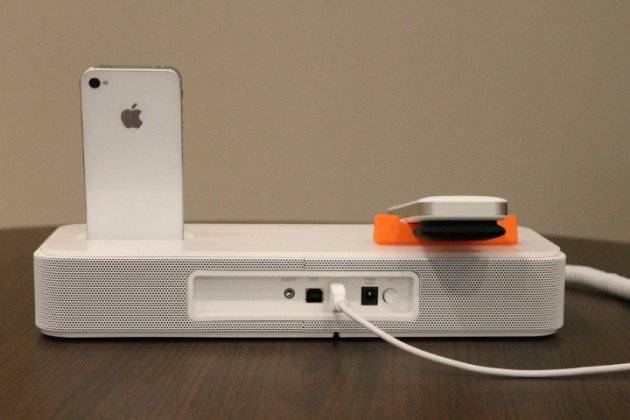 Housing four speakers, the dock is around 30cm long and 10cm wide, with enough weight to make it feel worth the £300 asking price. Around the back there is a USB for the headset to connect to, along with the power button and a 3.5mm headphone jack, so pretty much any sound source can be connected.
The top is home to a couple of hidden magnets to keep a rubber stand in place for the headset, and on the right there is a 30-pin iPhone dock connector and a single chrome dial. iPhone 5 owners need not worry, as of course they can connect to the AudiOffice via Bluetooth, although their phone can't be placed in the dock.
More than just holding the rubber stand in place, the magnets also interact with the handset and a dial tone is only produced when the handset is lifted up. It's a neat solution and makes do without a button for the handset to sit on.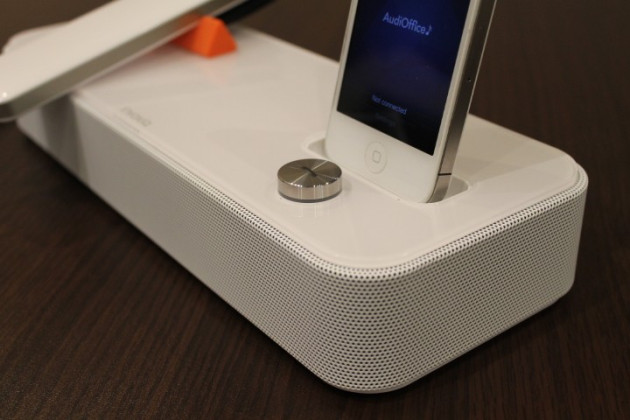 That dial has a blue light underneath and is used to alter volume, while a press will play or pause your music.
Connecting your iPhone and AudiOffice is as easy as docking the phone and turning the unit on. You'll be prompted to download the free Invoxia app from the App Store and away you go.
The app pulls contacts from your phonebook and also third party services like Skype.
Call quality is of course affected by your phone signal, so this can lead to poor call quality if you live in an area with bad coverage, but otherwise the AudiOffice's headset provides decent sound quality.
Much better though, is using the Invoxia's four speakers to broadcast your calls - although the rest of the office might not appreciate you calls taken up to volume 11.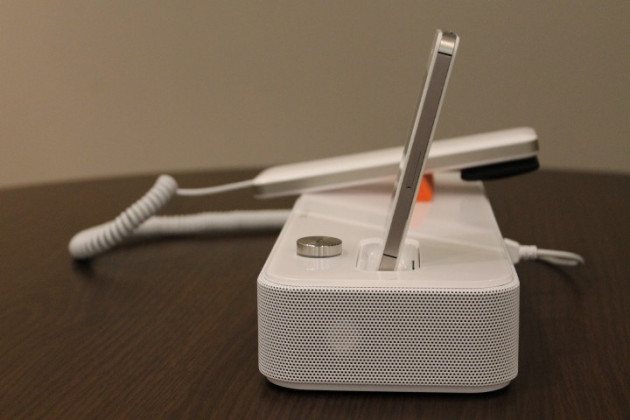 When you've got a decent phone signal sound quality through the speakers is excellent and certainly room-filling, although of course doing so means you miss out on slamming the handset down after your important call.
Above the range of ports on the back there is space to attach an included iPad stand, so you can make FaceTime calls without propping your iPad up against a pile of books.
As for playing music, while the AudiOffice is loud enough to fill the office, but we found the sound quality is no better than speaker docks costing considerably less.
Having said that, not many of these other speaker docks look as good as the Invoxia and none feature a phone handset - it's definitely a case of work over play, and for being the right side of that mix, the device scores highly.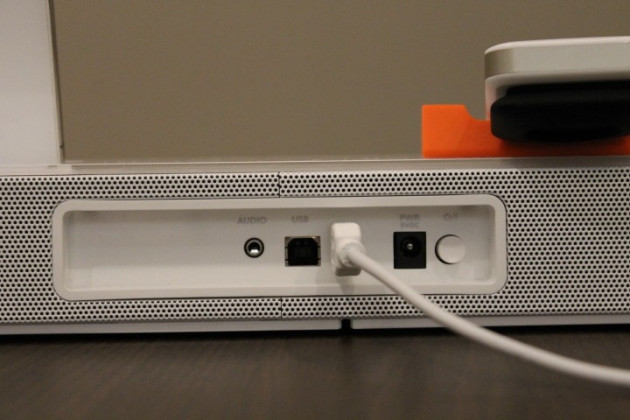 For any office looking for a desk phone solution for its employees - and specifically a solution that boasts great, eye-catching design and simple integration with iOS devices - then the AudiOffice is a great option.
The Good:
Great design - in our eyes at least
Easy to set up
Good sound quality
The Bad:
Expensive
iPhone 5 has to be placed on removable iPad dock