iOS 5.1.1 Untethered Jailbreak: Absinthe 2.0.4, Rocky Racoon v1.0-3 Released; Brings Support for iPad 2,4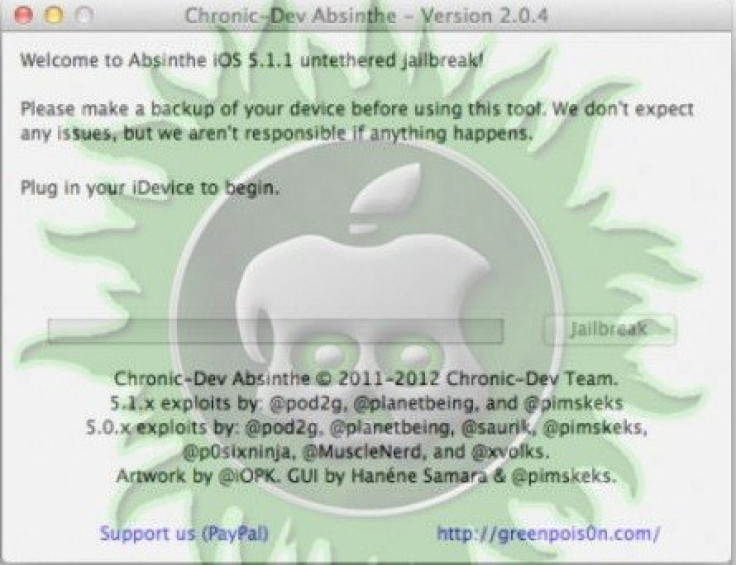 The Chronic Dev Team is living up to its promise of allowing users to access the latest jailbreak for all Apple devices running iOS 5.1.1 - Absinthe 2.0 was released at the Hack In The Box (HITB) security conference in Amsterdam last week.
Now, except for the odd loner - Apple TV 3 - the new updates for both Absinthe and Racoon bring support for previously unlucky iPad 2,4 users. Thanks to the Chronic Dev Team, the newly released Absinthe 2.0.4 covers the vast majority of iOS devices with the exception of third-generation Apple TV.
"Absinthe 2.0.4 is out with iPad2,4 support. Thanks to everyone who helped!! Got many ppl to send me data and sadly can't mention them all," iOS hacker planetbeing tweeted.
"#Absinthe 2.0.4 is now live, support for iPad2,4 is here," read another tweet by the Chronic Dev Team.
The iPad 2,4 is the late Wi-Fi-only version of the second generation iPad that followed the release of the new iPad or the third-generation iPad. The iPad 2's Wi-Fi only version incorporated small changes in its chipset hardware to enhance battery performance. The cheaper iPad 2,4 features a new SoC made of 32 nanometer technology as opposed to 45 nanometer SoC found in its predecessor.
As Redmond Pie notes, the relentless updates for iOS 5.1.1 jailbreak is set to propel the number of jailbroken devices to far-reaching proportions, after having successfully crossed the one million record number of jailbroken iOS devices within days of Absinthe 2.0 release. Now, the release of two new updates - Rocky Racoon v1.0-3 and Absinthe 2.0.4 - brings support to a whole range of devices including iPhone, iPhone 3G, iPhone 3GS, iPhone 4, iPhone 4S, iPod Touch 3/4G, iPhone 4 GSM new build 9b208, Apple TV2, iPad, iPad 2, iPad 2,4 and the New iPad 3.
Check out the download links below:
Absinthe v2.0.4 Mac OSX (10.5, 10.6, 10.7)
Absinthe v2.0.4 Windows (XP/Vista/Win7)
Absinthe v2.0.4 Linux (x86/x86_64)
Users should note that there is no change in the process of jailbreaking iOS 5.1.1 untethered on iPad 2,4 using Absinthe 2.0.4. You can refer to our step-by-step guide posted here.
Meanwhile, users are highly recommended to save their iOS 5.1.1 SHSH blobs. In situations where users accidentally update to any new firmware and lose their jailbreak, these blobs will allow them to roll-back to the fully jailbroken iOS 5.1.1.
© Copyright IBTimes 2023. All rights reserved.