Jailbreakers can now rejoice over the news that the evasi0n untethered jailbreak for iOS 6.1 remains unpatched in the recent iOS 6.1.1 beta update from Apple. Pod2g in his latest Twitter update has confirmed that the beta release seeded to developers does not patch any of the exploits used in the newly released evasi0n jailbreak.
Earlier, the jailbreak community was concerned that the upcoming iOS 6.1.1 beta release might break the exploits used by evad3rs dev team in order to prevent users from jailbreaking their iOS device. With due credit to pod2g's confirmation, it is now clear that the exploits used in the jailbreak have not yet been compromised.
However, pod2g cautions jailbreakers against upgrading to the new iOS version, stating that the existing jailbreak does not support it and users will have to wait for its public release. As iDownloadBlog notes, there is no significant feature enhancement in the new iOS update, except for the maps improvement released for Japan.
Advising the jailbreak community to refrain from updating to the newly released iOS 6.1.1 Beta, pod2g had this to say: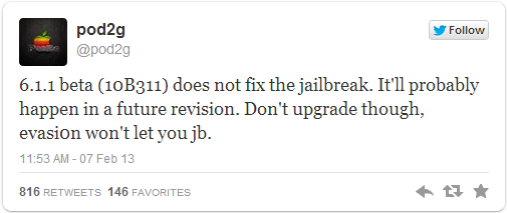 Recently released evasi0n jailbreak is the first untethered solution for iOS 6.x that supports newer devices like iPhone 5, iPad 4 and iPad mini. According to the latest report, the jailbreak has already garnered more than four million iOS device downloads, as of Thursday.