There is more good news for the jailbreak community, as the cat and mouse game between Apple and the Dream Team of hackers gains momentum with the discovery of new exploits for the upcoming jailbreak.
The Evad3rs Dream Team had earlier revealed that the release of iOS 6.1.3 had left a major vulnerability untouched by Apple, despite patching several other vulnerabilities. The patch almost killed the evasi0n jailbreak and raised concerns about the future of jailbreak releases.
Nevertheless, popular iOS hacker and researcher Joshua Hill (aka P0sixninja) has claimed the discovery of new exploits required for the upcoming iOS 6.1.3 untethered jailbreak. As iDownloadBlog notes, the former member of the Chronic Dev Team, P0sixninja, had this to say in his latest Twitter update: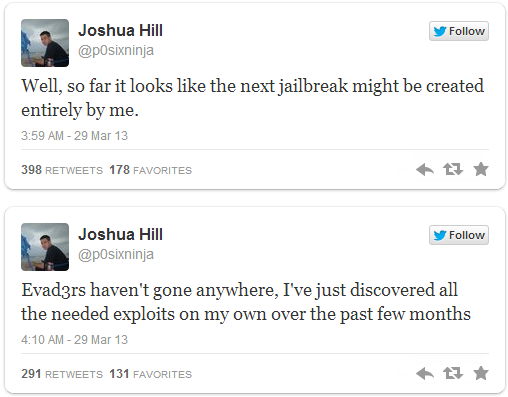 Although the veteran hacker has not revealed any proof to demonstrate his exploits with the iOS 6.1.3 jailbreak, it is widely expected that the next jailbreak will arrive only after the release of iOS 7 from Apple. Apple has a known history of fixing security exploits and bugs in subsequent iOS releases, so it is no surprise that the jailbreak developers are not taking any chances this time.
The future of iOS jailbreak has never appeared brighter, as P0sixninja and the evad3rs Dream Team are working harder to unleash their reserve exploits and unearth yet another jailbreak for their loyal fans. Amid the gloom and fall of jailbreak hopes earlier this year, pod2g and his Dream Team unleashed the first ever untethered jailbreak for iOS 6.
Now, another jailbreak is on the horizon, unless Apple manages to patch major security flaws in its next iOS release.