Just a few days ago, renowned iOS hacker and jailbreak developer, Joshua Hill (aka P0sixninja of Absinthe and GreenPois0n fame), had tweeted a cryptic message hinting that he had plans for something bigger than a jailbreak in his upcoming release. As iPhone Hacks notes, the hacker (Chronic Dev team member) had earlier claimed to have access to copy of any Apple internal firmware or signed version of ssh of telnet, which could pave the way for all future jailbreaks.
Elaborating his plans for the upcoming jailbreak project, the veteran hacker had this to say in his recent Twitter update:

In related news, p0sixninja has reportedly revealed further details about the project to a curious member of iFans community, Joe Rossignol, who says that "openjailbreak" project will be an open source jailbreak repository managed by a team of hackers under P0sixninja's leadership. The website for managing the jailbreak repository will be developed by Surenix.
As iDownloadBlog reports, here is what the veteran hacker had to explain about the upcoming open source jailbreak project:
"Essentially it's going to be a repository of open source jailbreak components that I created over the years.
"So much of my code has been hacked up and incorporated into other projects, it's becoming very fragmented. There's no central repository to maintain all this code, to allow other developers to submit patches or help layout a roadmap for what new features and abilities will be added in the future."
Based on the available information from P0sixninja, Joe ascertains: This is just a small part of the ultimate plan. Though it is not yet clear what it means, speculations are rife that the hacker has access to BootROM or a low-level system exploit with unforeseen jailbreak potential.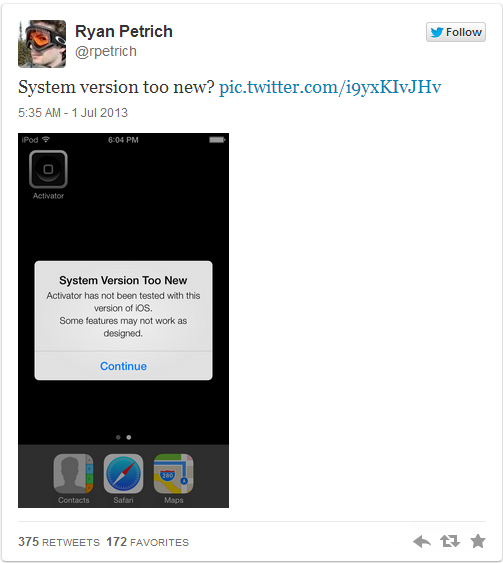 According to an earlier report in March, P0sixninja claimed to have enough exploits for the upcoming jailbreak, and Ryan Petrich's recent Twitter screenshot showing Activator jailbreak tweak running on iOS 7 Beta will further strengthen this claim.
Click here to read about iOS 7 Jailbreak Status: MuscleNerd Confirms No BootROM Exploit for A5 and Higher Devices