Apple has announced the release of iOS 7 Beta for developer testing at its ongoing annual Worldwide Developer Conference (WWDC) from 10 June through 14 June in San Francisco. iOS users who have accidentally upgraded their device to the latest iteration of Apple's software can now downgrade it to an earlier stable release such as iOS 6.1.3 or iOS 6.1.4 in order to install custom jailbreak tweaks and apps.
NOTE: There are still no working jailbreak tools for iOS 7 and moreover the beta versions are likely to carry several untested bugs or broken features. IBTimes UK brings a step-by-step guide to help users restore their devices to stable versions of iOS 6 via iTunes Backup and Restore function.
Pre-Requisites
Download iOS 6.1.4 for iPhone 5
Download iOS 6.1.3 for iPhone 4/4S and iPod Touch 5.
Install latest version of iTunes on your PC or Mac.
A lightning cable for iPhone 5 and iPod touch 5 or a 30-pin connector for iPhone 4/4S is required for this downgrade.
NOTE: It is not possible to downgrade the firmware from iOS 7 to iOS 6.1.2 on iPhone 5, iPhone 4S and iPod touch 5. However, iPhone 4 users can still downgrade to iOS 6.1.2 if they have the required SHSH blobs and APTickets saved for 6.1.2 or lower firmware version.
As Redmond Pie notes, contrary to Apple's stance that you cannot downgrade from iOS 7 Beta, it is actually possible to restore your device to previous public release firmware that is still being signed by Apple.
How to Downgrade iOS 7 Beta to iOS 6.1.4 on iPhone 5 or iOS 6.1.3 on iPhone 4/4S and iPod touch 5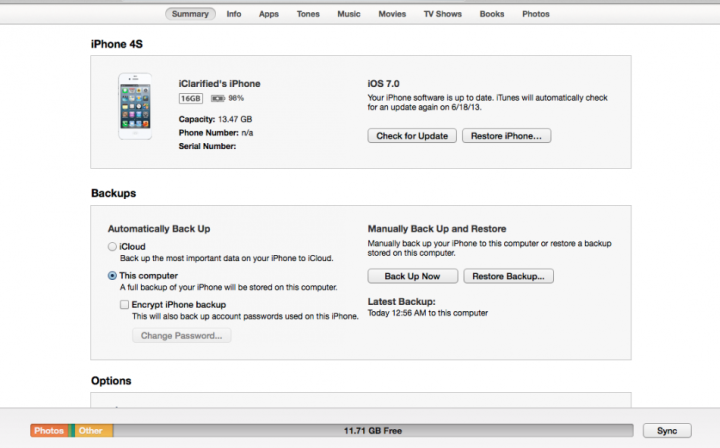 Step 1: Connect the iPhone or iPod touch to your computer (PC or Mac). Then run iTunes and place the phone into DFU mode (Hold the Power and Home buttons for 10 seconds, then release the Power, but continue holding Home button for 10 to 30 more seconds to boot the device into DFU mode).
Step 2: Choose your device from the left pane or click the iPhone button on the top right hand corner of iTunes.
Step 3: In the main iTunes screen, two buttons namely: Check for Update and Restore iPhone are visible. If running Windows OS then hold the Shift key and click Restore iPhone. Mac OS X users should hold the Alt key instead while performing the restore function.
Step 4: A new pop-up window should appear. Browse and select the IPSW file downloaded earlier for your iPhone or iPod touch and click Restore.
Step 5: iTunes will validate the IPSW firmware file with Apple and then the restore process will begin. This process may take some time to complete. So, please be patient and do not interrupt the process. Once the process completes, your device will be running iOS 6.1.3 or 6.1.4.
Check out the video-tutorial below, courtesy of iDownloadBlog:
Troubleshooting to Fix iTunes Error 3194 (courtesy of Redmond Pie):
If one of the host files on your computer is accidentally deleted, modified or corrupted, then you may see iTunes error 3194. This issue can be resolved in just a couple of simple steps:
Step 1: In Windows, navigate to Windows > system 32 > driver / etc folder. If running Mac OS X, browse to etc folder and copy the file named hosts in this folder to the desktop. Then right-click and open the file in notepad or any other text-editor.
Step 2: Scroll down to the bottom of screen and identify the line saying "74.208.105.171 gs.apple.com". Just add a # sign at the beginning of this line, which will disable the command from being executed during the restore process. After the edit, the line should look like this: #74.208.105.171 gs.apple.com. Alternatively, you can delete this line altogether. Once the change is done save the hosts file and close the text editor.
Step 3: Finally, Copy the hosts file back to the etc folder. If all the steps are done correctly, then error 3194 will no longer appear.
You have now successfully downgraded your iPhone or iPod touch 5 from iOS 7 to iOS 6, using our step-by-step guide.
ALSO READ: How to Install iOS 7 Beta 5 Without UDID or Developer Account [TUTORIAL]