Live coverage of the Apple event in San Francisco
Page will automatically refresh evey couple of minutes to keep you up to date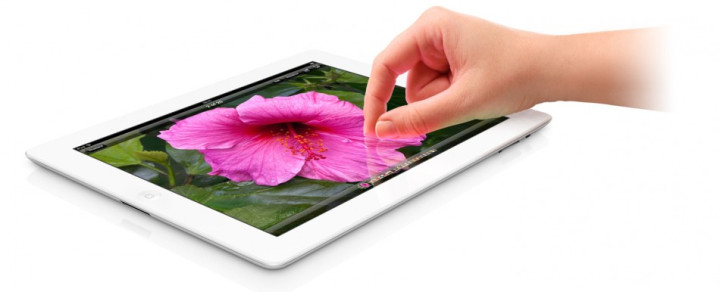 19:34 (GMT): Thanks for joining us folks and make sure to check back soon for all the details of the 'new iPad.'
19:25 (GMT): And we're done folks. No one more thing, no haptic touchscreen, no A6 quad-core processor, no iPad HD and no iPad 3. What did we get? A 'new iPad' with a Retina Display, quad-core GPU on the A5X chip, a 5 megapixel camera, 4G LTE versions for the states new iPhoto for iPad app as well as a new low price for the iPad 2. It will be slightly thicker and slightly heavier but will retain the same screen size and look of the previous two model.
The new iPad will go on pre-order today costing $499, $599 and $699 ofr the 16GB, 32GB and 64GB Wi-Fi only versions with the 3G/4G versions costing $130 more. It will go on sale in the US, UK and moany other countries on 16 March so start queuing now.
19:24 (GMT): Looks to be wrapping up here. New iPad, new iLife apps and new iPad 2 price. Is that it? New ad for iPad now showing...
19:20 (GMT): iPad 2 price dropped to $399 for 16GB version or $529 for Wi-Fi + 3G version.
19:16 (GMT): Tim Cook: "This is the most advanced display you've ever seen."
19:04 (GMT): iPhoto for iPad available today and costing £4.99.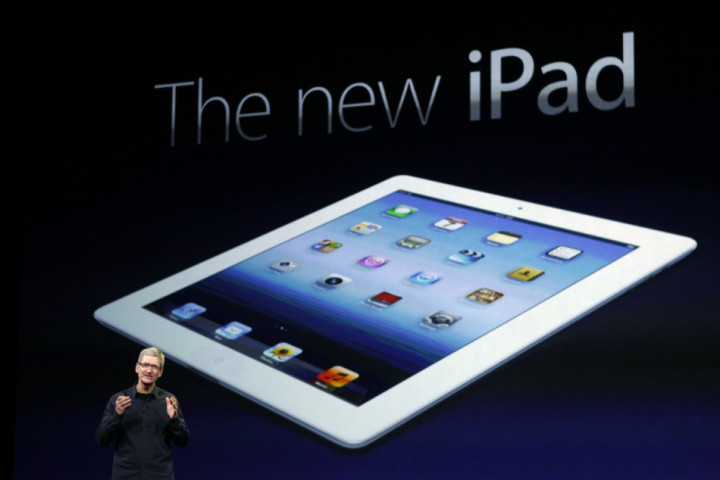 19:02 (GMT): No name yet or no mention of the haptic textured touch screen we've been hearing so much about in the last few days, but there's time yet for "one more thing...."
19:00 (GMT): iPhoto for iPad announced. It will be able to work with images up to 19 megapixels taking full advantage of that nice new screen. Seriously impressive editing capabilities on show in iPhoto. There is also an updated iMovie app avialable from today for free as an update or £4.99 from the AppStore.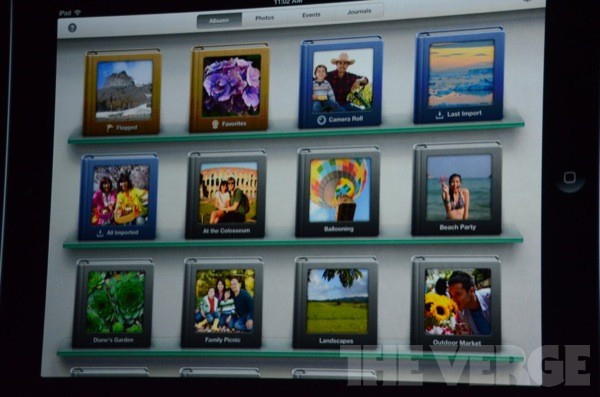 18:55 (GMT): Now talking about updated iWork productivity apps as well as updating GarageBand app adding iCloud support, Smart Strings and Note Editor
18:52 (GMT): Infinity Blade: Dungeons from epic being shown off now. Seriously impressive graphical power and lighting effects looking amazing. Big round of applause for that one.
18:49 (GMT): Oh and it will come in black and white versions. So we'll just have to wait for the pink version we want.
18:48 (GMT): All offical apps will be updated and scaled up properly to work with the Retina Display. By the way the official pricing in the US is: 16GB - $499, 32GB - $599, 64GB - $699.
18:45 (GMT): Despite much higher Retina Display, batter life still promised at 10 hours, which is a big statement. Now demoing some games on the new iPad.
18:43 (GMT): March 16 release date in UK, US, Japan and other countries, beginning at same price as iPad 2 $499 in US for 16GB. Lastest iPad (don't know what it's called yet) will be 9mm (slightly thicker than iPad 2) and will weigh 635g (slightly heavier than iPad 2).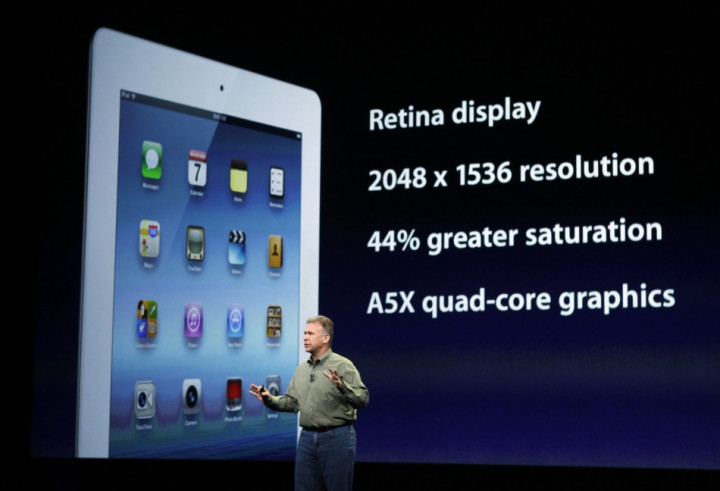 18:40 (GMT): Two 4G versions of iPad, one for Verizon, one for At&T. Can act as personal hotspot. Will ram on 3G so dual radios included I guess.
18:35 (GMT): 4G LTE version confirmed as well as supporting HSPA+ up to 21Mbps. Voice dictation also confirmed but notnecessarily Siri
18.30 (GMT): The rear camera has been given a major update. 5 megapixel with auto-focus, auto-exposure, face detection, focus-lock and it's "just a blast to use." 1080p video with stabilisation also included.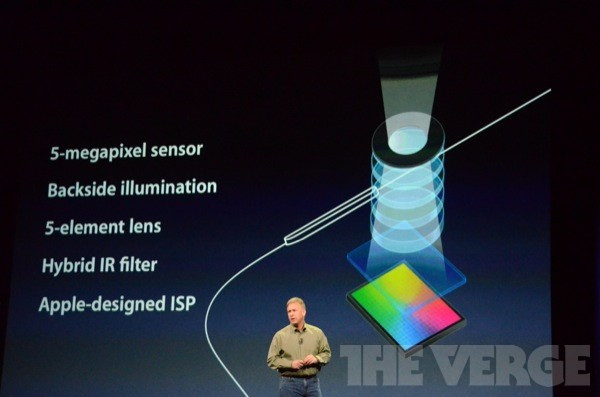 18:26 (GMT): No quad-core A6 chip but an update none the less. Apple claiming its four times faster than Tegra (but which one?)
18:24 (GMT): The resolution of the new iPAd will be 1536 x 2047. That's 264ppi, which is not as dense as iPhone but when iPad is held at normal distance it is effectively invisible pixels, so we'll need more graphic grunt. And so we have the quad-core GPU A5X chip.
18:22 (GMT): New iPad annoucned, and here comes Phil Schiller to announce....a Retina Display on the new iPad
18:18 (GMT): Now onto the iPad. Tim Cook back on stage and he's telling us how Apple sold more iPads in the last quarter of last year, than any PC maker sold of their PCs. And there are now 200,000 custom apps for the iPad.
18:12 (GMT): A new Apple TV, as we expected, has been announced with 1080p support, meaning new hardware. There's also a new interface and iCloud now supports movies like it already does for TV shows and music. Apple TV available from next week costing $99 and can be pre-ordered today Eddy Cue tell us.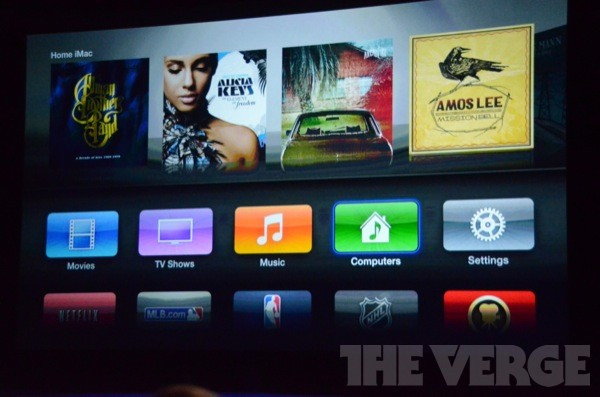 18:09 (GMT): Apologies for the delay, a bug in our system. Tim Cook talking about how great Apple is. Siri coming to Japan and a couple of new stores opening.
17:57 (GMT): And we're off, Tim Cook is on stage
17:53 (GMT): Adele and The Strokes being playing in the Yerba Buena Center in San Francisco ahead of the launch.
17:49 (GMT): Seats are being taken ahead of the press conference. Not long now.
17:42 (GMT): No 8GB or 128GB iPads apparently. Again this is through 9to5Mac whose source has access to the Apple inventory system. If true, this will be a blow to those hoping for a cut-price iPad or for those hoping for more internal storage. IOf course this has not been confirmed by Apple, but we're only a matter of minutes away from the event starting now. The source also says that the third generation Apple TV to be launched today will go on sale tomorrow at the same price of $99.
17:20 (GMT): It is being reported by 9to5Mac that 4G iPads are showing up in Apple's inventory system and they are not only going to be available in the USA. However for those of us in the UK, it means very little as we don't have a working 4G network unfortunately.
17:07 (GMT): Ahead of the launch here's a handy table to compare the three iPad models, which we will of course be updating once the official iPad 3 details have been announced.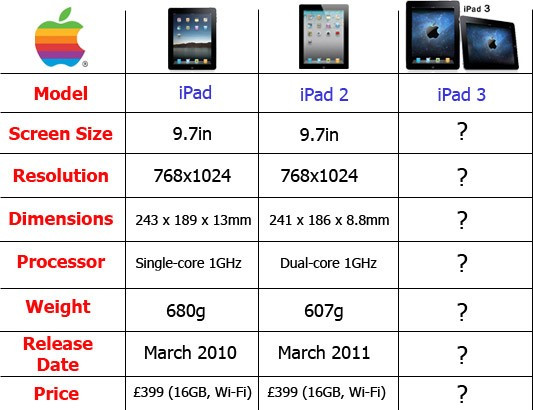 16:53 (GMT): Ok quick update with an hour to go. No new leaks to report, seems like we'll have to go on what we've got so far. We've now got some coffee, had a play of Street Fighter X Tekken and are getting ready for the big launch. Excited yet?
16:22 (GMT): Apple fatigue is beginning to set in. The words iPad 3 and Apple seem to be losing all meaning. But then you remember that it's now only 90 minutes until the Tim Cook takes the stage and unveiled the latest iPad, a new Apple TV and whatever else this huge company has come up with. Ok it's coffee time.
15:35 (GMT): Senseg has now suspended its Twitter account adding fuel to the fire (well, it's more like an inferno now) that its technology will be included in the new iPad. The idea of a haptic feedback touch interface changing to create an almost limitless number of different textures is something getting us really excited.
15:05 (GMT): And the online Apple store around the globe have been taken down ahead of the launch this evening. The tension builds.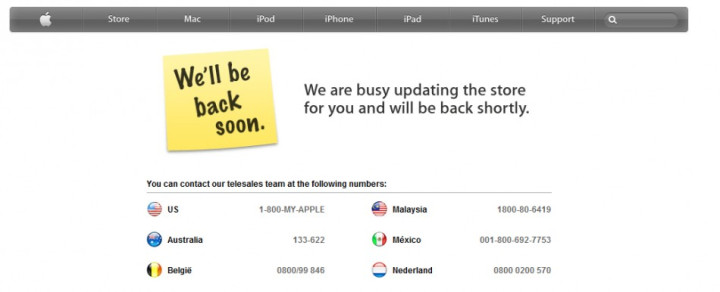 14.33 (GMT): The launch of the iPad 3 (iPad HD/iPad 2S) today marks the first major Apple event since the tragic death of Steve Jobs on 5 October last aged just 56. However becasue the development of products such as the iPhone and iPad happens over the course of years and not months, whatever is launhced by Apple today will still have Steve Jobs' fingerprints all over it.
Tim Cook, who took over as CEO of Apple following Jobs falling ill last year, will give the presentation today and he will be scrutinised not only by the Apple fans who loved Steve Jobs but by analsyts looking for any signs the company has been weakend by Jobs passing.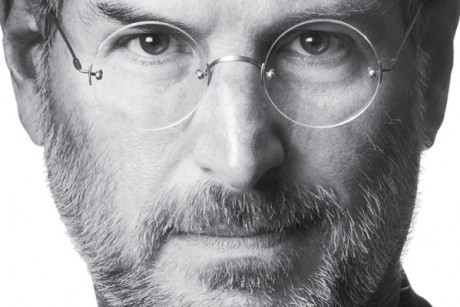 14:00 (GMT): Only four hours to go to the event, we have been discussing what else could be launched by Apple today. The "one more thing" could well be the third generation of Apple TV which we would hope to see give a significant boost. The addition of 1080p support, access to the App Store, better codec support and some local storage would all be welcome but with all that included we can't expect the price to remain at £99. Whatever Apple does with its TV offering, it will almost certainly be in preparation for the launch of a connect television set later in 2012.
13:00 (GMT): Here we go people, it's still five hours before the Apple media event begins in the Yerba Buena Center for the Arts in San Francisco but we will be bringing you any breaking news throughout the day as we hear it ahead of bringing you a live blog of the announcement as it happens. The conference centre has been taken over by Apple for the day and as you can see in the picture below has been decorated to mark the occasion.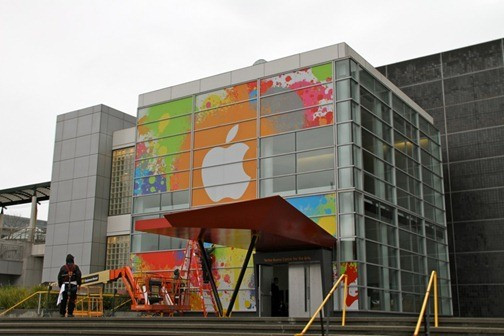 This page will automatically refresh every couple of minutes so you won't miss a thing and you can check back here every so often ahead of kick off at 6pm (GMT) when Tim Cook is set to take to the stage.
Below you will find links to our comprehensive list of features where we dissect every rumour and leak ahead of the launch to keep you entertained as you wait for the big announcement. We also detail the local times when the event will be taking place:
08:00AM - Hawaii
10:00AM - Pacific
11:00AM - Mountain
12:00PM - Central
01:00PM - Eastern
06:00PM - London
07:00PM - Paris
09:00PM - Moscow
03:00AM - Tokyo (March 8th)
Features: