iPhone 5 Launch: As it Happened
Live coverage of the Apple event from the Yerba Buena Center in San Francisco:
Announced:
iPod touch and Nano update
Apple Updates earphones with EarPods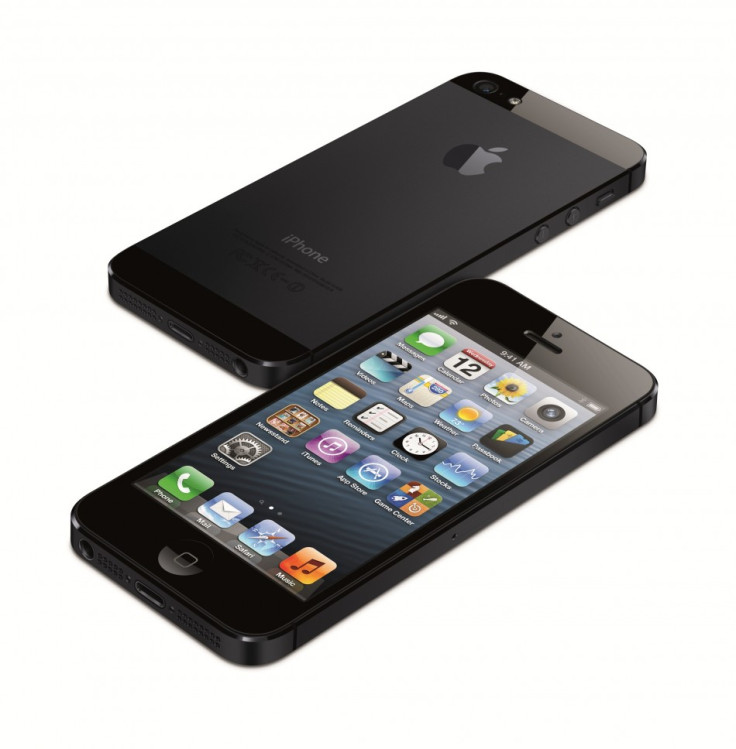 8:00pm: And that's it folks. Tim Cook signs off, following the announcement of a new iPhone, updates iPods, a redesigned iTunes and some funky new earphones. No iPad mini and no 13in Retina Display MacBooks but we're sure we won't have to wait too long for them
Thanks for reading and make sure to check out the links above for all the details on the new products.
7:48pm: Dave Grohl: "One of the great things about being here is meeting all these people who are shaping our future."
7:46pm: Wait a minute, Foo Fighters are coming out on stage......and playing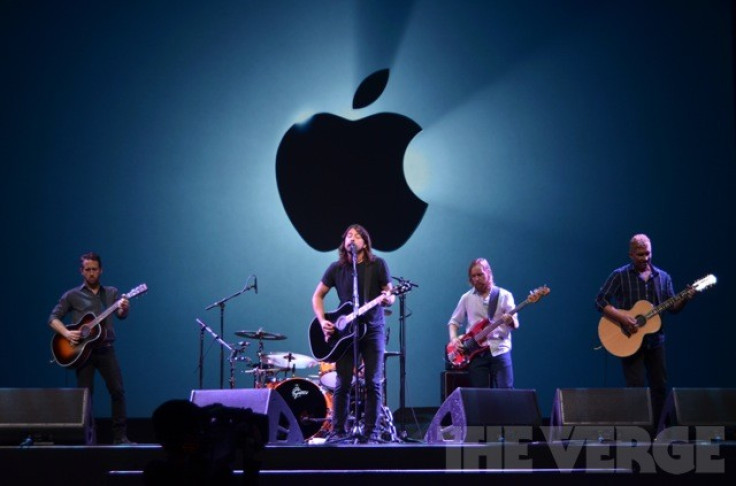 7:45pm: Tim Cook back on stage looking like he's ready to wrap things up. Talking about Apple being a great company and never bring stronger. what a surprise. Is there "One more thing?"
7:40pm: Updated iPod nano and touch available in October, costing $149 (nano) and $299/$399 (touch) respectively.
7:39pm: EarPods will come with all new iPods and iPhone 5.
7:37pm: Jony Ive: "Making earphones that fit for everyone would be like making shoes that are the same size that fit everyone's feet. But that's what we've tried to do."
7:35pm: Video now showing off the EarPods, which we saw a couple of weeks ago in a leaked videos.
7:33pm: Finally, Apple is updating its earphones, calling them EarPods, which had been three years in the making.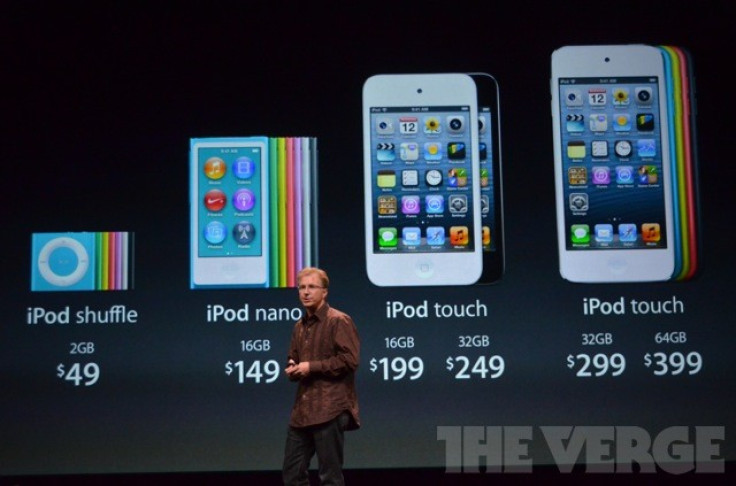 7:31pm: iPod touch also gets AirPlay mirroring, improved wireless connectivity, Siri (with iOS 6) and comes in five colours (and don't worry Apple will colour cordinate your lanyard too)
7:30pm: OH MY GOD....this is going to chance everything. Apple has added a lanyard to the iPod touch.....
7:30pm: iPhoto nows work with the iPod touch with Apple claiming the iPod touch rivals a point-and-shoot....hmmmm not sure about that.
7:27pm: Battery life of iPod touch has been improved to 40 hours of music, and new 5 megapixel iSight camera with same BSI snesor, Hybrid IR filer and five element lens as the iPhone 5.
7:22pm: New iPod touch is just 6.1mm thin, same 4in display as the iPhone 5, just 88g in weight and that's all Apple have to tell us.....oh and it's got an A5 chip.
7:21pm: Next up , the iPod touch.
7:19pm: the new Nano has Bluetooth built in meaning connecting to your car stereo should be a cinch and Apple is promising the longest battery life they've even had in a Nano.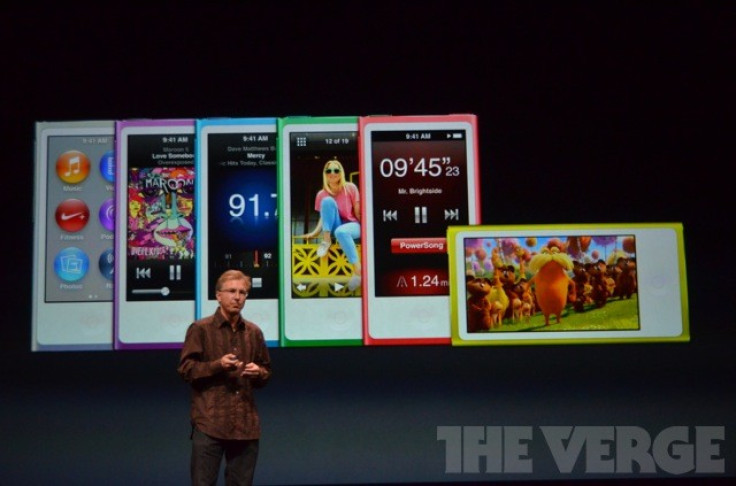 7:18pm: "It even has live pause, so you can pause or go back and listen to something again."
7:17pm: New iPod Nano has bigger 2.5in multi-touch screen, is just 5.4mm thin, has physical controls for play, pause, forward and back and a Home button like the iPhone. It will come in seven different colours and has an FM tuner integrated.
7:14pm: iPod update time. First up is the Nano: "First we want to give it a large display. Give it nice controls. Make it thin and light. And of course, the Lightning connector."
7:13pm: iTunes now also comes with iCloud, a new mini player and an "up next" feature. It will be available in October.
7:12pm: The desktop store looks very like the new iOs apps, a lot easier and simpler to navigate around I suspect.
7:10pm: "We've given the artist the ability to share photos with you in your library. Here's some photos Coldplay is sharing."
7:07pm: Now looking at the new itunes design which looks nice and slick and has an edge-to-edge look to it.
7:06pm: All available on 19 September with iOS 6.
7:05pm: New iOs App Store design and new iTunes design for iOS devices which will run across all stores, books, music, video.
7:04pm: "Let's talk about iTunes. It's the #1 music store in the world."
7:03pm: Eddy Cue is out on stage.
7:01pm: and that's it from Schiller, Tim Cook back on stage to talk iTunes and iPod..
7:00pm: Pre-order begins on 14 September and sales in US, UK, France on 21 September. Start queueing now. iOS 6 coming on 19 September to iPhone 3GS and upwards and iPad 2 and up.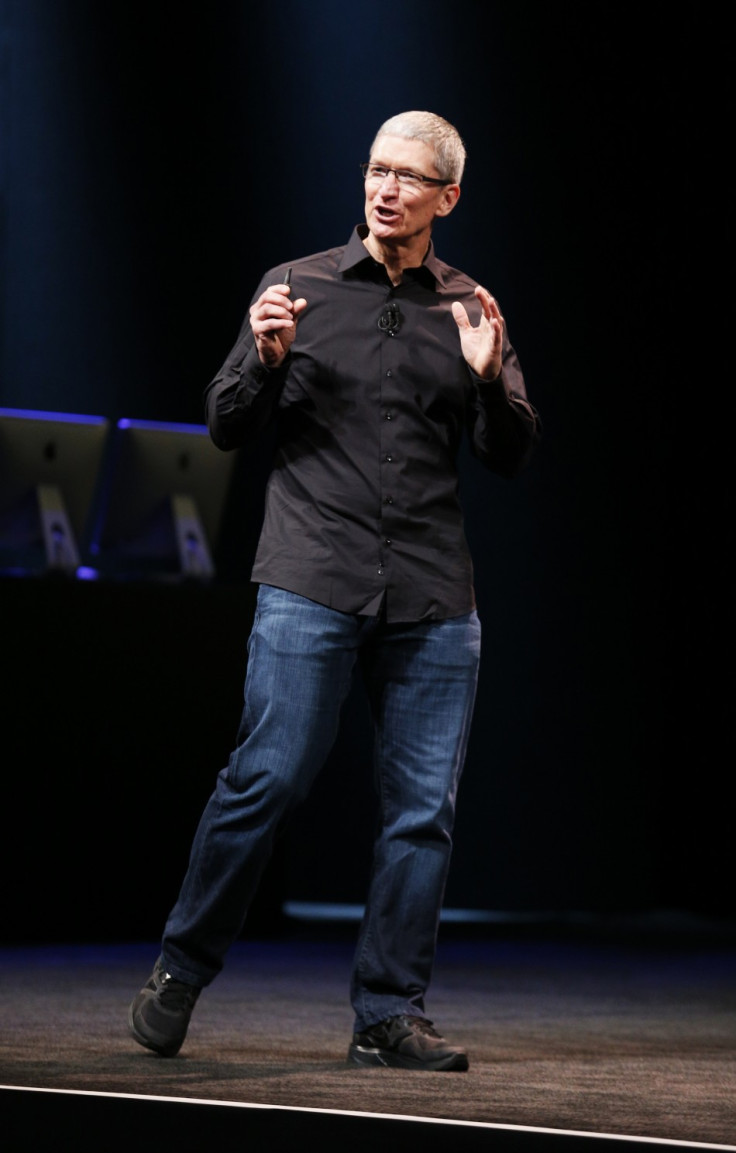 6:59pm: Phil's back on stage with pricing: In the US, the iPhone5 will cost $199, $299, $399 for 16GB/32GB/64GB versions on a two year contract. Same as iPhone 4S meaning we can expect the smae here in the UK.
6:57pm: Video finally over, onto pricing and release date hopefully.
6:53pm: Still more video gushing: "I don't think the level of invention has been matched by anything we've ever done."
6:52pm: Now promotional video with UK's own Jony Ive saying:
"We take changing the iPhone really seriously. We don't want to just make a new phone, we want to make a much better phone. iPhone 5 is the result of this approach. For the first time ever, we've increased the size of the display. You can see more of your content, but still comfortably use it with your hand."
6:51pm: The iPhone 5 will come in black and white, with slate or silver back respectively.
6:50pm: Phil Schiller is out hopefully to talk pricing and release dates.
6:49pm: Forstall asks Siri to recommend a movie and Siri says that's a very subjective questions. that's not much help is it. Now showing off Facebook integration with Siri.
6:48pm: Now onto Siri enhancements and Forstall going over ground we saw at WWDC back in June.
6:47pm: Now showing off photo stream sharing which will let you share photo stream with friends and family and they'll get push notifications when you've shared the latest picture of your dog.
6:46pm: Now onto the Passbook app but no mention of NFC so far, which was one of the few disputed features left to be announced at the keynote.
6:46pm: Full widescreen Safari on show, as well as iCloud tabs, letting you pick up on one device where you left off browsing on another.
6:45pm: In case you missed it, we reviewed iOS Beta earlier this year, which includes all the features being shown off at the moment.
6:45pm: Forstall showing off turn-by-turn navigation and satellite imagery as well as that 3D flyover mode we say back at WWDC when iOS 6 was first announced.
6:43pm: Scott Forstall is out on stage to talk software and first up is the new maps software, which can search for places of interest, 100m of which are already pre-programmed
6:41pm: Now onto iOS 6.
6:40pm: Schiller shows off an adapter for the 30-pin connector to Lightning.
6:39pm: Smaller dock connector confirmed. Called Lightning (to go along with the Thunderbolt) which is reversible, 80 percent smaller, all-digital 8-signal design, adaptive interface, improved durability.
6:36pm: Audio system has been redesigned with three microphones, bottom, front and back. Improved speaker design with is 20 percent smaller. Noise-cancelling earpiece.
6:35pm: 1080p video, improved video stability, face detection - you can take photos while shooting video. FaceTime camera is HD.
6:33pm: Panorama more comes to the iPhone about three years after most other phone had it. "It creates seamless transitions between these photos."
6:32pm: The camera will be 40 percent faster at image capture. Showing off images from the camera, which Schiller calls 'untouched' a thinly veiled dig at Nokia's recent woes.
6:28pm: Now onto the iSight camera: Remains at 8 megapixel, BSI sensor, with Hybrid IR filter, and f/2.4 aperature. Schiller playing up low-light performance precision lens alignment and sapphire crystal.
6:27pm: Schiller glosses over battery life claiming 8 hours talk time or 8 hours LTE browsing, 10 hours video playback.
6:26pm: Rob Murray from EA now on stage showing off Real Racing 3, which he claims will play with "full console quality" on the iPhone 5.
6:24pm: Schiller confirms A6 chip inside the iPhone 5, with 2xCPU performance and 2xGPU performance.
6:23pm: 4G confirmed, and they're working with EE, which is HUGE news for the UK telecoms industry. Vodafone and O2 will not be happy.
6:21pm: Onto wireless tech, which is very important for UK users.
6:20pm: Schiller is claiming 44 percent better colour saturation. "This is the most accurate display in the industry. The touch sensors are integrated right into the display itself. We removed a layer and made it sharper. This is the world's most advanced display, and I couldn't be prouder of it."
6:18pm: All core software has been updated including iPhoto, Garageband, Keynotes, Pages, Numbers and any App Store app which isn't updated will be centred and a black band added to the top and bottom.
6:17pm: A fifth row of icons can now be added to the home screen, and the new design will allow for more information in your calendar app, email app etc. to be displayed on screen.
6:16pm: 7.6mm and 112g, the new iPhone has a 4in Retina Display of 326ppi. Resolution of 1136 x 640.
6:15pm: the iPhone 5 has been confirmed. Looks identical to all the leaks we've seen. Schiller calls it the "most beautiful product we've ever made." Where have we heard that before?
6:13pm: "We have some exciting news about the iPhone." And Phil Schiller is out.
6:12pm: Onto apps and there is now 250,000 iPad specific apps. "It's a revolution, It's phenomenal."
6:11pm: iPad accounts for 91% of all the web traffic from tablets. I don't know what these other tables are doing."
6:10pm: Now onto iPad, Cooks says Apple now has 68 percent of tablet market, up from 62 percent last year.
6:08pm: Cook says Apple was number one in notebooks in the Us for the past three months, having a 27 percent share in July.
6:06pm: 380 stores in 12 countires with a 13th coming this Friday, with 83M visitors in the last year.
6:02pm: Tim Cook talking about Apple retail stores, highlighting one in Barcelona which uses local limestone or something....
6:01pm: And Tim Cook is on stage....
5:55pm: OK the doors are now finally open as Apple lets the media, analysts and special guests into the auditorium for the presentation. Only minutes away now people.
5:45pm: It seems as if we were a little premature as Apple is yet to open the doors at the Yerba Buena centre, but in London people are seated and ready to go.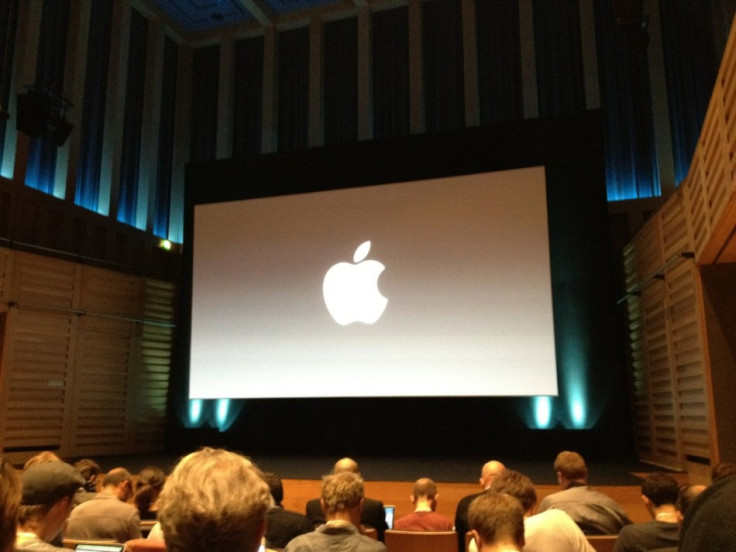 5:35pm: While all the attention in the lead up to this event has been about the iPhone, I think the new iPods, possible new 13in MacBook Pro Retina Display and the chance of a glimpse of the iPad Mini are just as exciting.
5:30pm: The doors are open and people are taking their seats in the Yerba Buena Center. Is Tim Cook sweating the launch of the iPhone 5 behind those curtains? We doubt it very much.
5:15pm: For a little bit of balance, try reading this piece from a Chinese reporter at teh Shanghai Evening Post who has gone undercover at a Foxconn factory making the iPhone 5. Here's an extract [translated by MIC Gadget]:
"The first night sleeping at Foxconn dormitory is a nightmare. The whole dormitory smells like garbage when I walked in. It's a mixed of overnight garbage smell plus dirty sweat and foam smell. Outside every room was fully piled up with uncleared trash. When I opened my wardrobe, lots of cockroaches crawl out from inside and the bedsheets that are being distributed to every new workers are full of dirts and ashes."
5:00pm: With just one hour until the event begins, Twitter monitoring service CheerMeter states that the iPhone 5 is getting more than 107,000 tweets per hour and has gathered 636,000 so far today, up from just 44,000 yesterday.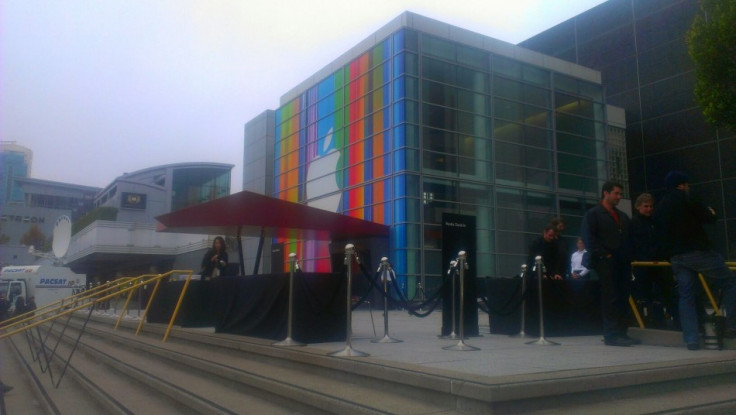 4:25pm: Fox News anchor Clayton Morris has tweeted what he's heard about the iTunes update. He expects much more to come in October.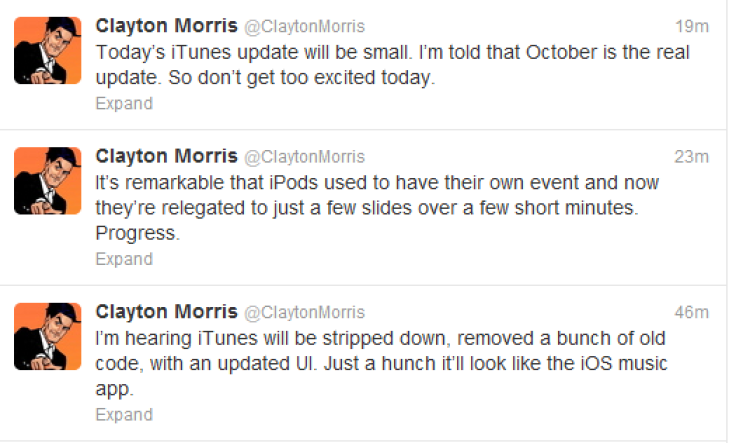 4:20pm: Nilay Patel of The Verge tweets that Apple staff are queueing up outside the San Francisco conference centre, waiting to get in.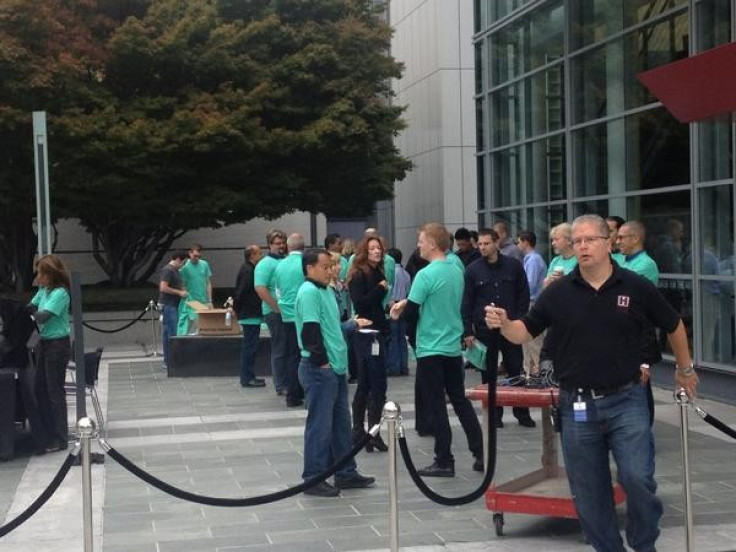 4:15pm: We're getting reports that Apple's iCloud service is unavailable to some users and we are unable to log into our personal account. This suggests to us that Apple is about to add some new features to iCloud, possible cloud versions of the Reminders and Notes apps to sync with their iOS and OS X counterparts.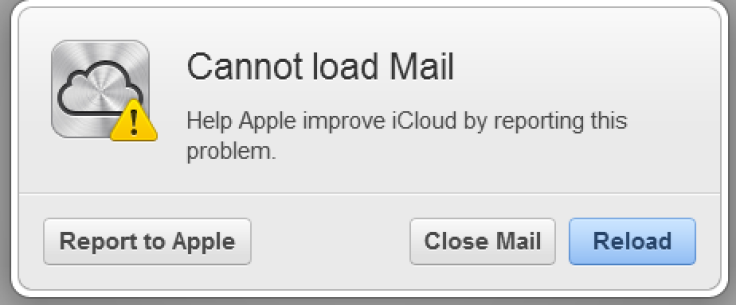 Angry users have taken to the Apple discussion boards to complain that they cannot access iCloud with no explanation from Apple.
3:58pm: iOS developer Will Strafach is saying that, contrary to earlier rumors, the iPhone 5 will feature NFC, with its purpose being a lot more than just mobile payments. As reported by iPhoneHacks, Strafach claims that NFC was part of the EVT (engineering verification test) stage of iPhone 5 development, and he doesn't see why the feature would be dropped, tweeting:
The developer added that NFC can be used for "much more" than just making payments.
3:45pm: The Guardian has claimed its sources confirm that the iPhone 5 will run on the 4G networks that go live in the UK later this year. The site said:
"A source has confirmed to the Guardian that the major telecoms network equipment vendors - which include Huawei, Nokia Siemens Networks and Ericsson - have been testing iPhones that work on the 1800 band 4G spectrum to be used in the UK."
EE - previously known as Everything Everywhere - will use the 1800 MHz 4G band, and it seems that the iPhone 5 will run on this band, giving EE a huge advantage over rivals Vodafone, O2 and Three.
The event will begin at the following times worldwide on 12 September:
07:00AM - Hawaii
09:00AM - Alaska
10:00AM - Pacific
11:00AM - Mountain
12:00PM - Central
01:00PM - Eastern
02:00PM - São Paulo
06:00PM - London
07:00PM - Paris
09:00PM - Moscow
02:00AM - Tokyo (September 13th)
03:00AM - Sydney (September 13th)
3:30pm: Yet more poking around in Apple's all-telling search box and we've found that there will be a new iPod touch and iPod nano announced alongside the iPhone 5 today, thanks to the site pointing us to press releases that aren't yet live.
The search also points towards the webpage www.apple.com/iphone/LTE, although it is yet to go live, confirming that the iPhone 5 will have LTE (4G).
Sadly, a search for the iToaster returns nothing.
3:25pm: With less than two hours to go, photographs claiming to be of the new iPhone 5's logic board have surfaced online, showing an A6 processor, which we assume to be a setp up in performance than the new iPad's A5X chip. There's also a Qualcomm LTE modem in there too.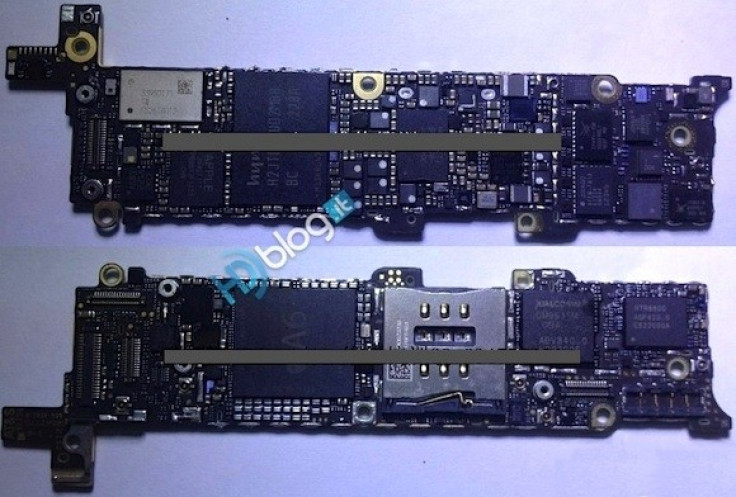 To keep up with the competition we would expect the A6 to be quad-core and with a clock speed of around 1.2GHz. Butfor Apple to give its iPhone the latest and greatest processor would be a departure from the norm, as it's usually the newest iPad that gets the new chips first.
3:15pm: Looks like we'll be seeing a new version of iTunes announced today as well, thanks to some more searching of Apple's website. Apple CEO Tim Cook said recently it would be "doubling down" on secrecy; we're not so sure.

3:08pm: Following on from the last comment, IDC research analyst Francisco Jeronimo has posited the question: Wil the iPhone 5 or Galaxy S3 win the lucrative Christmas market?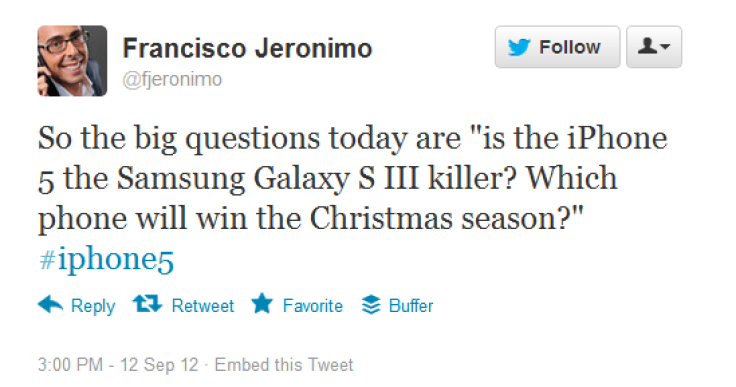 3:05pm: More than ever before Apple is facing a tough challenge from other manufacturers to be the king of the smartphones. Samsung's Galaxy S3 has sold 20 million units already and is predicting another 10 million by the end of the year.
Nokia's Lumia 920 running the latest Windows Phone 8 software may not be available until November but look likiely to at least take some slice of the iPhone's market.
2:58pm: Oh dear, it seems as if Apple has let the cat out of the bag a little early in terms of the name of its new iPhone. A quick search on www.apple.com for 'iPhone-5' returns a number of pages related to the as-yet-unannounced phone. As you can see in the screenshot we've grabbed below, a page for iPhone 5 tips exists, though is not live yet.
Of course thise could be a ruse from Apple to throw us off the scent, but it seems unlikely at this late stage.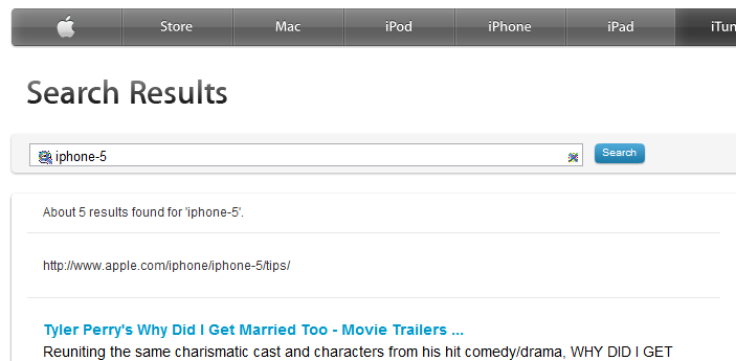 2:46pm: And we're live. Only three hours to go to until Tim Cook takes to the stage at the Yerba Buena Center in San Francisco and puts all SEO 'experts' out of their misery and finally reveals what the latest iPhone will be called. iPhone 5? New iPhone? iPhone HD? or just iPhone? Let us know what you think in the comments below.
Ahead of the event kicking off, we'll be bringing you all the rumours, speculation, leaks and stories coming out of Curpetino about the new iPhone, but all the possibility of an iPad mini, 13in MacBook with Retina Display, new iPod touch and shuffle models as well as the new Lightning dock connector, updated earphones and much more.
It's going to be a big day, so sit back, relax and enjoy the excitement.
Must Read:
Apple to Launch Updated iPod touch, Lightning Dock, Earpod Headphones & iPad Mini
iPhone 5 Predictions - What to Expect from Apple Launch
© Copyright IBTimes 2023. All rights reserved.