When a new device such as the Samsung Galaxy S3, iPhone 5 or iPad 3 is announced, whole industries rumble into life in the background so we decided to investigate just how they work.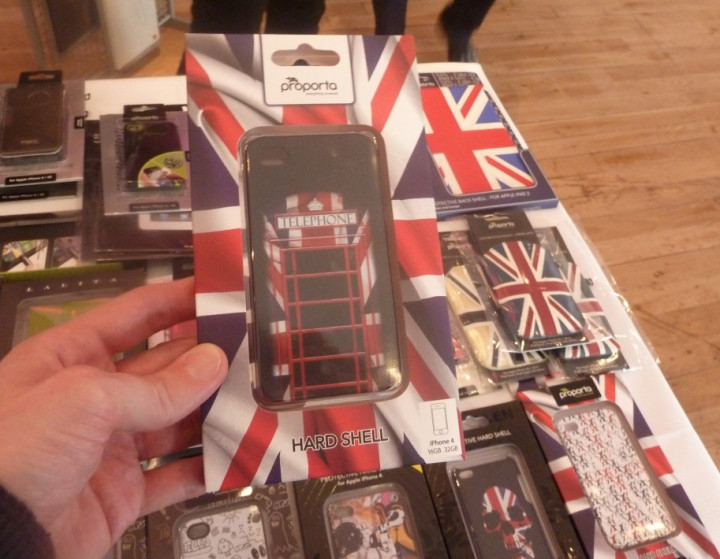 While you may think that accessory manufacturers, such as makers of phones case, covers and adapters, have advance warning of a product launch, it turns out that this is not how it works.
That is because when you hear the news about that swanky new smartphone or tablet, chances are the companies that make accessories for those products are hearing it for the first time too.
Today's high-profile launches are surrounded by so much secrecy that Apple and Samsung will not even share a device's dimensions with their business partners for fear that something will leak.
"Basically, we don't know," Lynnette Prigmore, head of product development at Proporta, told IB Times UK. "We sell cases into Apple under the Proporta brand as well as some of the third-party brands we work with and we have as much idea as you do about when a new iPhone, iPad or iPod is going to come out."
Naturally, the delay in matching accessories to the product can have an impact on how many are sold. Prigmore confirms that there is a burst of sales when a new device comes out in the shops.
"The ideal world from a retailer's point of view would be that we would have accessories on the day of the phone going on sale," she said.
"It tends to be electronic retailers who want it quicker because there is a much higher attachment rate for people buying a case at the same time that they buy a device. That is the sweet spot."
She added that the retailers generally understand that if they haven't got the device - which many of the phone shops may not have before day of launch - then the case manufacturers don't have it either.
Incipio approaches the news blackout in a very different way. CEO Andy Fathollahi said the company starts preparing for a new Apple device well in advance.
His staff monitor the rumours closely and begin to work on accessories that match those specifications.
"We start looking at possible designs around six months to a year before," he told IB Times UK.
"We take mills of devices that we carry around with us before we design the cases. We want to get a feel for what the product is going to be like. Then we carry those around with the cases on to see what that feels like because as a user you are going to live with that case for a long time and we want to make sure it is right"
Fathollahi said the designers throw away 75 percent of their designs along the way because the phone dimensions often change significantly from the early rumours.
Rumour Control
In order to operate that kind of design process Fathollahi has to be glued to websites promising the latest news on yet-to-be-launched phones.
"I look at them all, sites like 9to5mac.com. I have a whole bunch of sites set up on my Twitter and I use that like an RSS feed. I don't tweet much myself but at the end of the day I go home and I check Twitter and see what everyone has been saying and watch the videos," he said.
Even though Proporta does not make cases in advance of the specs being released, Prigmore also said her teams watched the rumour websites.
"We would be stupid if we didn't look at that. Also we are in the tech industry so we read rumours on everything not just phones or Facebook, anything that is out there.
"So we keep an eye on it until we actually know what it is going to be and that's the point where we actually push the button on anything," she said.
Prigmore did not name any specific sites but said the team might set up Google alerts and watch discussions on Facebook and Twitter.
With the latest smartphones being so prevalent in consumer minds it doesn't even need to be a technology site to find out the latest news.
"You'd have to be on the moon to not hear about it. Phones have progressed and when Proporta first started up it was very much aimed at the business user," she said.
"The company was in the protective market and now it's much more about having that lifestyle thing."
Time to Market
Prigmore said Proporta was fortunate to work very closely with its manufacturing partner so it could get product out quite quickly after a device launch or announcement.
"With the Samsung Galaxy S3 for example we had product out two weeks after it had been announced based on the little CAD drawings that Samsung had released," she revealed.
"Then once we actually got our hands on the device we checked it. Fingers crossed it matched up quite nicely, which nine times out of 10 it does."
Incipio CEO Fathollahi said his company also had to be prepared to make sure it is ready to roll as soon as a case is ready.
"We have manufacturing units all over the world and we are the biggest manufacturer of cases bar none," he said. "The analogy I use is that we're like a big ship, which means when we want to make a turn we have to start planning a long way ahead."
He said that meant making sure enough resin was ordered, that packaging suppliers were briefed and that important cogs in the company's distribution network have been prepped.
"We have a fabulous relationship with Fedex, their reps are in our offices every week to meet with different teams," he added.
With different kinds of cases being made from a wide range of materials, the two weeks to market timeline Proporta talks about does not fit every option.
So called 'Cut-and-sew' cases made in leather, PU or other soft material will be able to hit that target but Prigmore admits that hard shell cases made out of a polycarbonate can take six to eight weeks to create.
"With leather for example you don't have any tooled pieces in it because it is all handmade so that can be produced very quickly," she described.
"If you are making a hard shell we have to make sure we have got volume control and the holes in the right place and any ports for headphones. That goes into what is called tooling - we make a tool and then we can make the cases from that. It takes about three to four weeks to make a tool depending on the detail of it. So production takes much longer"
Those outside the industry might think that once an announcement has been made all the problems would be solved for accessory makers.
However, Prigmore said that even after a company has officially shown off a handset Proporta would not expect to be given a dummy model to work from.
She said practices had not changed much from how things used to be.
"Back in the day, with things like the iPod Nano, they used to announce it and then Steve Jobs would say, 'And they are on sale now!' and boom it would all go on the website," she remembered.
"We would then obviously buy them like any consumer would and wait for them to arrive."
Fathollahi seemed at ease with the Apple culture of secrecy and described how a similar system was in place at his production facilities on the west coast of America.
He called the Incipio laboratory a closed environment and revealed that the company had even written its own iPad app to take the photo of anyone who comes to the facility for added security.
"You can't get into our production plant without going through reception and signing in. The app is called Guestbook and instead of being invasive like airport security it's a fun thing," he explained.
"We built a custom desk so that when you enter you are looking at an iPad and the receptionist. The iPad takes your photo and you feel like, 'Oh that was fun'.
Business Tactics
So how do you build a business based on a product that is kept secret until the very last second?
Prigmore said Proporta did not just focus on those early sales when a new handset was launched but made sure the accessories it makes for companies such as Samsung, HTC and Apple hit specific events in the calendar year.
That could include a back-to-school range, Christmas themed cases or classic British designs that would live on beyond the Queen's Diamond Jubilee.
"We work with Ted Baker so we have quite a lot of access to different trends that are coming in. We've worked with the London College of Fashion before as well. So it tends to be more on the design side," she said.
She was also thankful that the majority of the company's designs would work across a number of different accessories.
Even with the introduction of tablets or very large mobile phone handsets such as the Samsung Galaxy Note, they could still be applied across the range.
"Most of our designs are quite transferable and we use some of the same designs on an iPhone as we would use on an iPad," she said.
"It doesn't matter too much unless they release something star shaped, that might be tough to reconfigure. As long as it stays pretty much rectangular then we are usually OK."
Must Read:
Apple iPhone: Top 10 Things to Connect to Your iOS Smartphone [SLIDESHOW]
Samsung Galaxy S3 Review