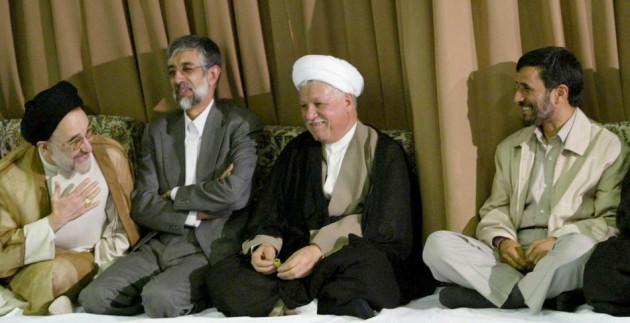 Conservative candidate and former parliamentary speaker Gholam-Ali Haddad-Adel has pulled out of Iran's presidential elections on 14 June, according to local media.
A member of the hardline "Principalist" movement, Hadded-Adel is related by marriage to Ayatollah Ali Khamenei and asked Iranian voters to "strictly observe" the Supreme Leader's guidance.
"With my withdrawal I ask the dear people to strictly observe the criteria of the Supreme Leader of the Revolution [Khamenei] when they vote for candidates," he said in a statement carried by the semi-official Mehr news agency.
"I advise the dear people to take a correct decision so that either a Principalist wins in the first round, or if the election runs to a second round, the competition be between two Principalists."
Haddad-Adel was approved by the Guardians Council, which supervises the electoral process, to stand for election - one of only eight people to pass the registration process out of 700 applicants.
No reason was given for him pulling out of the election.
The remaining seven candidates include Iran's chief nuclear negotiator Said Jalili, ex-Vice President Mohsen Rezai, senior cleric and former nuclear negotiator Hassan Rohani, university professor Mohammad Reza Aref, Tehran Mayor Mohammad Baqer Qalibaf, former Telecommunications Minister Mohammad Gharazi and former Foreign Minister Ali Akbar Velayati.
Reza Aref, a renowned Reformist, denied reports he was pulling out of the presidential race and said he would remain in the contest "until the end".
Rumours of Aref's withdrawal spread after centrist candidate Hasan Rowhani's chances grew in recent days.
Guardian council spokesman Abbas Ali Kadkhodaei said there was no plan to review the qualifications of the eight candidates. But the watchdog body could disqualify Rowhani, according to two Iranian media outlets, for his alleged disclosure of confidential information about the country's nuclear programme.