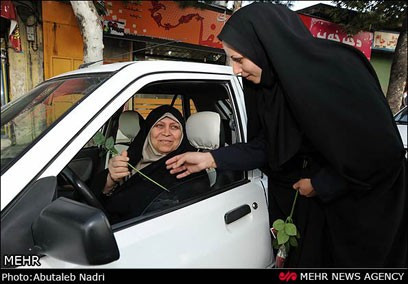 Women who respect the Islamic dress code in one of Iran's northern provinces are being presented with a rose as a reward for compliance.
Throughout the Muslim holy month of Ramadan special police "modesty squads" will be on the streets to assess that women are dressed modestly.
Those who pass are given a rose as a reward, the online edition of Ynet news reported.
The modesty squads, totalling 70,000 officers, will be checking out shopping centres and busy road junctions, the report added.
Women wearing headscarves improperly and those in "vulgar" dress will be given a warning before being fined or even held by police.
The rose incentive is part of a campaign to step up immodest dress by women.
The head of Tehran Police, Brig Gen Hossein Sajedinia, told the semi-official Iranian Mehr agency: "Confronting bad forms of dressing will be carried out in two parts: producers and importers on one hand and consumers on the other.
"The other stage of this initiative consists in deploying permanent moral patrol vehicles in public squares, commercial centres and streets as well as motorbike patrols on Tehran highways.
In June, Iran's police chief Ismael Ahmadi Moqadam called on Iranian "moral capital and pious people" to help police enforce the code.
Every year with the warmer weather raising fears of women wearing less conservative clothing such as summer dresses Iranians officials and religious leaders ramp up the pressure.
Under sharia law, which was imposed after Iran's 1979 revolution, women are obliged to cover their hair and wear long, loose clothing to disguise their figures and protect their modesty. Punishment for violation include lashes, fines or imprisonment.