Iran Hardliners Chant 'Death to America' in Defiance of President Rouhani
Annual protest in Tehran gains significance following reformist president's historic opening to Washington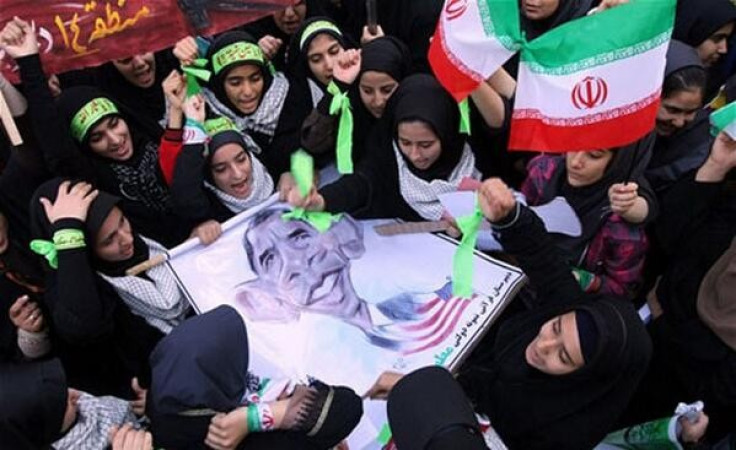 Iranian hardliners have gathered outside the former US embassy in Tehran chanting "Death to America" on the anniversary of the 1979 embassy takeover in the wake of the Islamic revolution.
The protest, an annual event, was perceived this year as a show of defiance by conservatives against moderate president Hassan Rouhani who has opened the door to Washington in an attempt to solve the nuclear dispute.
Rouhani has won critical support from Supreme Leader Ayatollah Ali Khamenei for his bid to find a peaceful resolution to the standoff with world powers. But hundreds of hardliners packed the streets in Tehran outside the embassy and held up anti-US placards, sending a clear message to Khamenei.
Some protesters carried banners reading "We trample America under our feet" and "The US is the Great Satan". One image showed Obama in wrestling gear and wearing Star of David earrings.
"Thirty-four years ago, our nation showed the realities to the world - that American embassies are a place of espionage and hatching plots," war veteran and former chief nuclear negotiator Saeed Jalili told crowds.
"The capture of the nest of spies showed that the revolution was on the right path," he said.
"No one should consider our negotiators as compromisers," Khamenei said earlier. "They have a difficult mission and no one must weaken an official who is busy with work."
But Iran's supreme leader also praised the Iranian militant students who stormed the US embassy in 1979.
"Thirty years ago, our young people called the US embassy a den of spies. It means our young people were 30 years ahead of their time," he said, referring to the scandal surrounding Washington over its National Security Agency eavesdropping on world leaders, including German chancellor Angela Merkel.
© Copyright IBTimes 2023. All rights reserved.