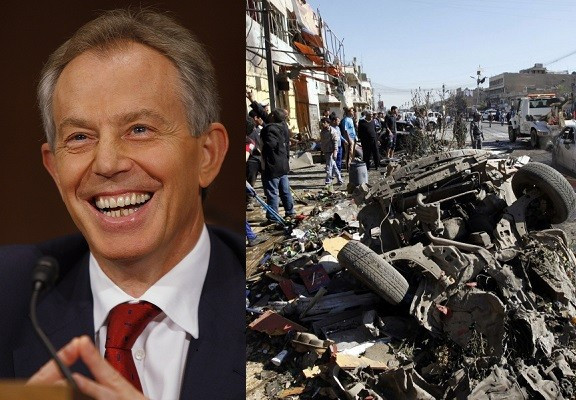 Tony Blair has again defended Britain's invasion of Iraq by claiming it prevented a civil war worse than Syria.
On the tenth anniversary of the US invasion, Britain's former prime minister Blair the BBC he had "no regrets" about following America into battle.
Blair insisted Saddam Hussein was "a monster who created enormous carnage" and was '20 times as evil' as Syria's pariah leader Bashar al-Assad.
Blair was speaking as a series of car bombs ripped through Baghdad, killing an estimated 50 people. An estimated 160,000 Iraqis have been killed following the 2003 invasion, along with 179 British troops.
Speaking to the BBC, Blair asked: '"what would be happening now in Iraq if [Hussein] had been left in power? I certainly think that if Saddam had still been in power, there would have been, probably, an uprising amongst his people.
"But I think it would look a lot more like Syria and probably a lot worse than Syria.
"And that's why, when people say to me, 'do you regret removing him', my answer is 'no - how can you regret removing somebody who was a monster, who created enormous carnage - not just amongst his own people but amongst the people of the region.'"
Blair, who became a Middle East peace envoy after resigning as prime minister in 2007, continued: "If you look at what's happening in the Arab Spring today and you examine what's happening in Syria - just reflect on what Bashar al-Assad, who is a 20th as bad as Saddam, is doing to his people today and the number of lives already lost."
In Syria, which borders Iraq, around 70,000 people have died since civil war broke out two years ago. President Assad has defied expectations by hanging on to power against efforts to depose him by the Free Syria Army.
Blair made no mention of weapons of mass destruction (WMD) in his latest justification of the war which defined New Labour's 10 years in government.
The omission echoed an interview he gave in 2009 in which he revealed he would have favoured devising another case for deposing Saddam if no evidence of WMD had been available.