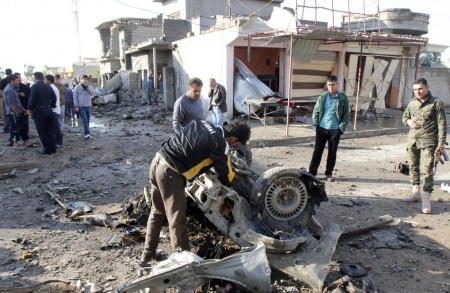 At least 17 people have been killed in a series of bombings in Iraq, on the eve of the Shia Muslim holy month of Muharram.
At least six car and roadside bombs exploded in the capital, Baghdad, and four other urban areas. The deadlist attacks took place in the northern city of Kirkuk, where at least three bombs exploded simultaneously.
No-one has yet claimed responsibility for the attacks, however their timing suggests they could be sectarian in nature.
Iraq only recently emerged from a brutal sectarian civil war, and militant Sunni groups have mounted several attacks against their Shia rivals.
The Kirkuk attacks began when a car exploded next to the offices of the Kurdistan Democratic Party, which represents the semi-autonomous Kurdish region of Iraq.
As police gathered to investigate the explosion, they were hit by another bomb that killed at least nine and wounded 30, officials told Reuters. In another part of the town, a third bomb wounded seven street cleaners.
In the city of Hilla, 62 miles south of Baghdad, a car bomb exploded next to a girls' school and a crowded poultry market, leaving four dead. Local official Hamza Kadhim told Reuters that the attack was "a real vicious terrorist act."
In the Sunni-dominated city of Hawija, about 62 miles north of Baghdad, a car bomb targeting an Iraqi army patrol killed five and injured four.
In the capital Baghdad, a person was killed in an explosion which was apparently aimed at an Interior Ministry official. Three policemen and another six people were wounded.