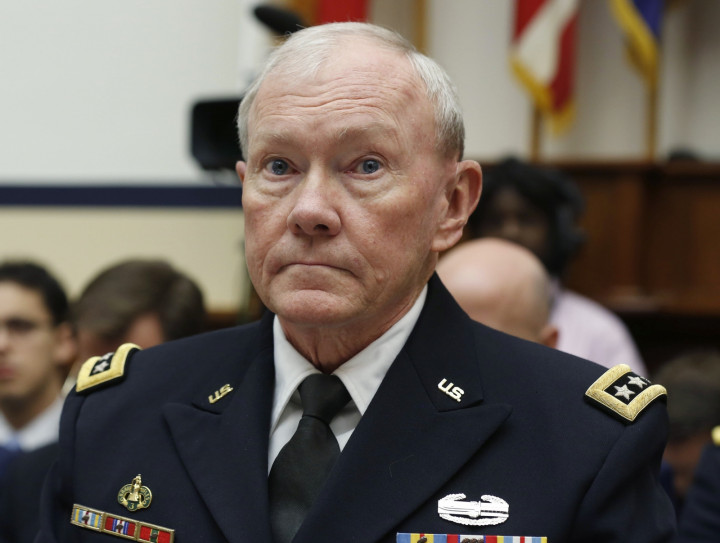 Top-ranking Pentagon official General Martin Dempsey has arrived in the Iraqi capital Baghdad on an unannounced visit as the US is actively considering deployment of combat troops against the Islamic State (Isis) militants.
The visit by Dempsey, the head of the US Joint Chiefs of Staff, coincides with the stepping up of US military efforts in the region to wipe out the Sunni insurgents.
"I want to get a sense from our side about how our contribution is going. I want to hear from those actually doing the lifting that they've the resources they need and the proper guidance to use those resources," the US military official told Reuters shortly before landing in the Iraqi capital.
On Thursday, 13 November, Dempsey told a Congressional hearing that Washington might be required to send ground forces to recapture the IS-controlled city of Mosul Iraq.
"I'm not predicting, at this point, that I would recommend that those forces in Mosul and along the border would need to be accompanied by US forces, but we're certainly considering it," he told the briefing.
"We're going to need about 80,000 competent Iraqi security forces to recapture territory lost, and eventually the city of Mosul, to restore the border."
President Barack Obama recently authorised the mobilisation of up to 1,500 American troops to act as trainers and advisers for the Iraqi and Kurdish forces.
The Obama administration has so far formally refused to dispatch ground troops to Iraq but has constantly stepped up its military campaign against the IS in recent months.