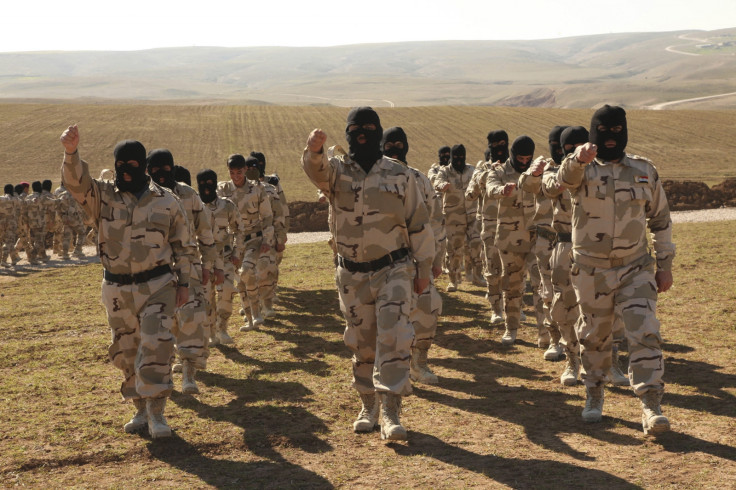 Iraqi Prime Minister Haider al-Abadi has said the country's security forces are readying an offensive to regain the northern city of Mosul from Islamic State (Isis) militants.
Abadi said he hoped Iraq's second most populous city could be retaken in a matter of months.
With assistance from a number of Sunni tribes in northern Iraq, IS militants swiftly took control of Mosul in June last year, when national security forces simply fled rather than resist the wave of attackers.
The militants have governed the city with little challenge from Iraq's central government since then, although security forces have fought the militants in other parts of the country.
Abadi told the BBC that the initial slow response of the United States and its allies to the crisis had left him exasperated.
"I was a bit frustrated in my first three months of being a prime minister because of the slowness of this support."
The US-led coalition has since stepped up its aerial campaign against the militants, halting territorial advances and pushing the group back in northern Iraq.
"I think the air campaign has increased in its quality and intensity," Abadi told the BBC.
Abadi has ruled out the possibility of inviting American ground troops on to Iraqi soil, but has said the offensive to take Mosul would require coordination with the US military as well as Kurdish peshmerga forces.
The prime minister said the timing of the offensive would depend on ground situation and that his forces were "planning an offensive on Mosul in the next few months."
If Iraq's security forces were to retake the city, it would be a major strategic blow to the militants, who want to keep the city as part of its self-declared Islamic caliphate that stretches across parts of Iraq and Syria.
Who is Haider al-Abadi?
Abadi assumed office in September, taking over from Nouri al-Maliki, who had become a divisive figure within Iraqi politics after he stoked sectarian tensions in the country in a bid to shore up his own power.
Iraq's Sunni communities loathed Maliki's divisive policies so much that some aided IS in its offensives in Anbar and Nineveh provinces.
Although a Shia Muslim who belongs to the same political party as his predecessor, Abadi has struck a more conciliatory tone and vowed to promote Iraq's national interests and halt sectarianism.
Abadi has opposed foreign involvement on the ground as Baghdad attempts to defeat the IS threat, although Iran is widely acknowledged to be playing a key role in ground operations against the group in Iraq and Syria.