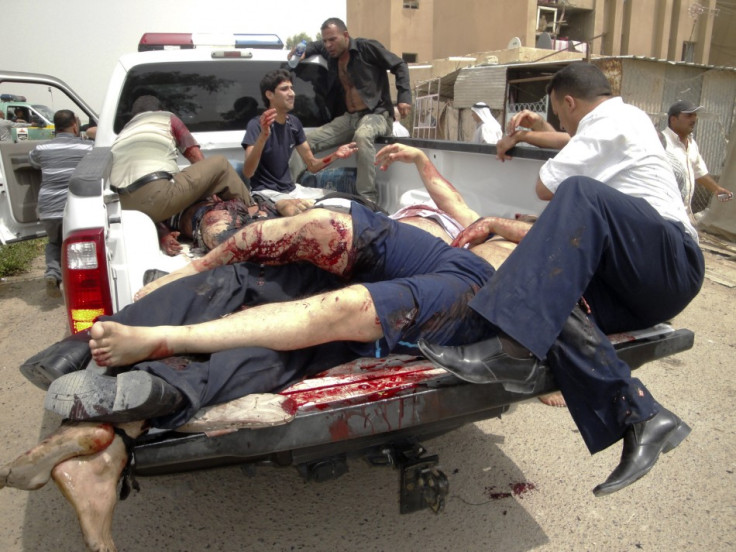 A car bomb and a roadside bomb blew up in a crowded parking lot outside a government building north of Baghdad on Tuesday, killing at least 28 people and wounding dozens more, officials said.
The blasts hit a municipal office in the town of Taji, about 20 km (12 miles) north of the Iraqi capital, a day after a wave of attacks on police and soldiers proved that the Iraqi security forces will struggle to cope with violent insurgency once the U.S troops complete their withdrawal by the end of the year.
The explosions hit police, government workers and Iraqis who had lined up for national identity cards, and television footage showed bodies and body parts scattered across the open lot.
"I was standing in a line when suddenly a powerful blast shook the ground. I immediately covered my face as shrapnel and shattered glass flew around," said witness Karrar Abid, who acts as a middleman for people applying for identity cards to Reuters.
"I heard people screaming, 'car bomb, car bomb, people killed'. I turned around to see four cars set ablaze, with smoke and dust filling the area ... The second blast awakened me from the shock, to see people covered with blood screaming for help."
Deputy Health Minister Khamis al-Saad said the bombs killed 28 people and wounded 58 but another government source said the total attack cost the life of 35 people.
"It was a double explosion. The first was caused by a car bomb," Raad al-Tamimi, head of the Taji municipality told reporters.
"The place was crowded with people who were going to process official papers and with police and employees."
Tamimi also said that many of the wounded in Tuesday's blasts were in serious condition at a hospital in the Kadhimiya district of northern Baghdad.
"The hospital is crowded. Relatives of the wounded are in and out. Some of the wounded were transferred to other hospitals," he said. "The material damages to the building of the district council were minor, like shattered glass, because the explosions were outside the council.
More than eight years after the invasion that ousted Sunni dictator Saddam Hussein, Iraq is plagued by a stubborn insurgency that launches attacks on a daily basis. Recently U.S. military officials revealed that an average of 14 attacks a day take place in Iraq, making the future of the country all the more uncertain.
The country continues to face large scale displacement and pressing humanitarian needs. Millions of Iraqis have fled their homes - either for safer locations within Iraq or to other countries in the region - and are living in increasingly desperate circumstances. Refugees International recently claimed that up to 500,000 of the internal displaced persons (IDPs) "live as squatters in slum areas with no assistance or legal right to the properties they occupy."
Talking about the government the organization also explains that "While the Government of Iraq is well situated to generate significant revenue from its oil reserves, it will take years if not decades before these resources reach the most vulnerable."
In addition to the difficult humanitarian situation within the country, the Iraqi security forces have also had to face increased attacks from armed militants and dissident groups.
In the last three days, at least 10 police and soldiers have been killed in a wave of attacks across Iraq and 22 other people have been wounded as a result of the insurgency.
Militants showed the approach of the American troops withdrawal is only making them even more defiant as they launched a rocket late Monday at Baghdad's heavily fortified Green Zone of government buildings and foreign embassies.
It landed near the well-known Rasheed Hotel, one of the capital's largest, killing three women and two children and settling ablaze 25 caravans, officials said.
Iraq's civilian death toll in June was the highest since January, with 155 killed and militants are now said to be heavily targeting government officials.
Gunmen and suicide bombers stormed a provincial council building in Baquba on June 14 after detonating a car bomb outside, and killing eight people and just a week later, on June 21, two bombs killed at least 25 people outside a provincial governor's house in Diwaniya
With a visibly weak government and militants that are becoming more and more avid of power as the days pass, Iraq risks heading into a downward spiral of violence and divisions within the next two years and as the country is now divided between several warring factions battling the government, it is difficult to see who can bring back unity in the country.