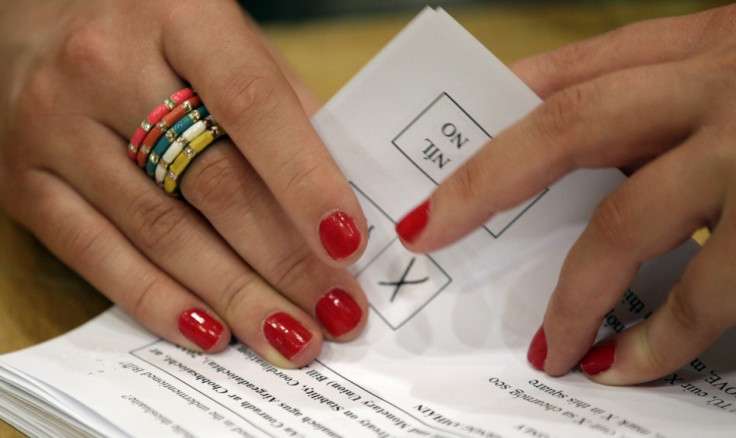 Irish voters have agreed to the latest set of EU fiscal rules in the only referendum to be held across Europe on the treaty.
The EU Fiscal Compact, signed by 25 of the 27 EU member states in March not including the UK and Czech Republic, includes a deficit target of 0.5 percent of a country's GDP.
States that fail to comply with the treaty's rules face prosecution and a fine.
Ireland voted yes to the treaty with a majority of 60.3 percent.
No other state is holding a popular vote, leaving it solely to their legislatures to decide.
Eurozone economies in the EU need just 12 of the 17 member states to agree to the treaty for it to be ratified in the single currency area.
Critics say the target is not realistic and will ensure austerity across the eurozone, which is having a serious effect on economic growth, will be longer and harsher than it needs to be.
Eurozone leaders want to send a strong message to the bond markets that they are committed to controlling their public finances in a bid to ease investor fears and keep borrowing costs down.
Ireland had to be bailed out by the EU and IMF during the financial crisis else it faced bankruptcy.
Now the country faces the prospect of needing a second bailout as it struggles to grow its economy.
Austerity has seen unemployment in Ireland rocket, currently at 14 percent, and led to the country plunging back into its second recession in four years.
"I think the probability is that one will be needed. If we look at the direction the markets are taking now, I don't see any strong signal of any kind of easing in the markets between now and 2014," Alan Dukes, chairman of the state-owned Irish Bank Resolution Corporation, said speaking on Bloomberg TV.
"So I think the prudent thing is to assume that there will be a need for the continuation of the bailout programme, which in itself would necessarily include conditions that would not be dissimilar to those that are in this fiscal treaty."