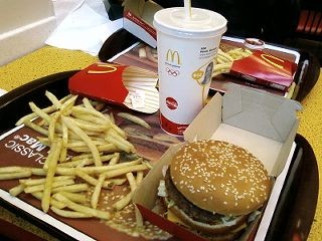 Parents in Ireland blend McDonald's food and feed it to their young children, an advertising executive has said.
Orlaith Blaney, chief executive of McCannBlue advertising agency, said she had spoken to mothers who had blended fast food to feed to their toddlers.
Her comments were made at a conference held by the Food Safety Authority for Ireland (FSAI) that asked who is responsible for what we eat.
She said her company, working with healthy eating group Safefood, interviewed parents around the country about what they fed their children in order to devise a campaign to get people to make healthier choices, reports the Irish Independent.
"We questioned mothers in inner city Dublin going to get McDonald's, and blending it and giving it to her young child," she said.
"These are really serious issues that are happening. That's the sharp end of the spectrum but there's all kinds of variations in between."
Blaney also said children see around 5,000 adverts a year aimed at making food look delicious to increase sales. She said restrictions on advertising could help to improve the health of children, but this must be done in conjunction with changes to government and society.
She said previous research has shown two in three Irish consumers say parents are mainly responsible for obesity, followed by the fast food, confectionary and soft drink industries.
"Advertising plays a role. We make food and drinks look delicious and appetising, but the main aim of advertising is to get consumers to choose one brand over the other, as opposed to encouraging consumers to eat or drink bigger volumes.
No fat tax
"Advertising is one element, product placement in TV programmes, integrated campaigns in-store and online, as well as portion size and ultimately, what our parents eat are all influences on what we eat and when.
"Everyone has a role to play in the responsibility debate from the food and drink companies through to the Government, society and even advertising agencies."
Alan Reilly, chief executive of the FSAI, said there are a number of factors that impact the types of food people choose to eat and that the government has a responsibility to ensure consumers are making informed choices about what they eat.
However, he dismissed the idea that the government should introduce a 'fat tax' on unhealthy foods.
"Broader interventions such a fiscal measures and the introduction of taxes on certain categories of foods can lead to claims of a 'nanny state'," he said. "The food industry has a window of opportunity to voluntarily move to reformulation of processed foods leading to healthier options with reduced fat and sugar.
"Failing to take the lead in this area will result in more stringent regulation and tighter controls to assist consumers make the healthier choices. A carrot and stick approach has seen the numbers of deaths on the roads in Ireland being reduced dramatically in recent years, similar measures may be considered necessary to change behaviour regarding the production and consumptions of food."