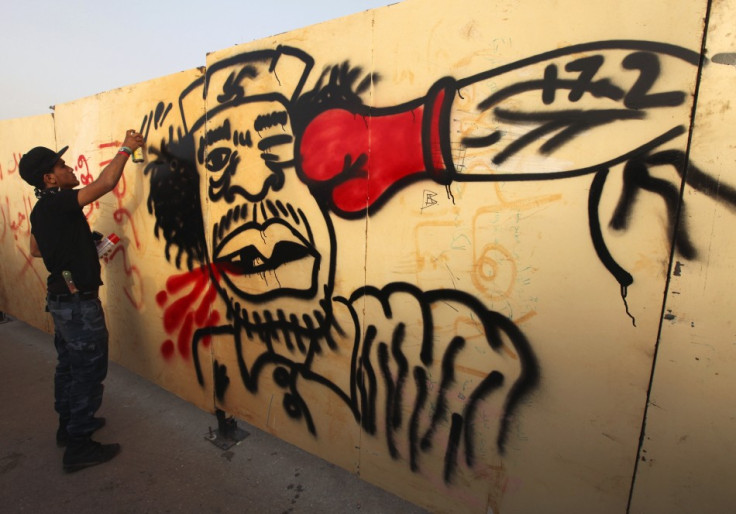 On June 4 China made its first confirmed contact with the Libyan rebels. The meeting was held in Qatar between a Chinese diplomat and the leader of the rebel National Transitional Council and follows a spate of defections by high-profile figures of the Gaddafi regime, including senior oil official and former Prime Minister Shokri Ghanem.
In Beijing, a Chinese Foreign Ministry statement said Beijing's ambassador to Qatar, Zhang Zhiliang, had met and "exchanged views on developments in Libya" with Mustafa Abdel Jalil, the chairman of the rebel council that is trying to offer itself as a credible temporary alterative to Gaddafi.
"The Chinese side's position on the Libya problem is clear," the statement said. "That is, we hope for the crisis to reach a political resolution."
The meeting comes as in the recent weeks Gaddafi has had to face a series of setbacks with the intensification of the Nato bombing campaign and advances from the rebel fighters on the ground, while the Transitional Council, on the other hand, has been welcomed on the international scene by a number of states. In the last month alone leaders of the rebel movement have been in contact with the coalition forces but also with Israel and in a U-turn, Russia has also announced it would contact the rebels to see if a cease fire leading to a transition can be worked out.
China now seem to have followed the Russian lead as in the space of a few days, it has increased its contact with the rebels, announcing on Monday that that its diplomats have visited the Libyan rebel stronghold of Benghazi and held talks with the rebel National Transitional Council.
The Chinese Foreign Ministry said the diplomats, based at the Chinese Embassy in neighbouring Egypt, visited the eastern Libyan city to try to "understand the local humanitarian situation and the state of Chinese-funded firms."
China's position with regard to the Libyan conflict remains like many other countries unclear and indecisive. While many pointed out it was forced to bend its non-intervention policy principle as it did not veto the UN 1973 resolution, China had until now stayed clear of getting too involved in the messy conflict. Its change of attitude certainly stems from the nascent international recognition of the National Transitional Council and the general consensus that see Gaddafi's days in power as numbered.
However, by getting directly involved in the conflict and negotiating with the rebels' leader China knows it must be careful as each of its steps will be scrutinized both by the West and Africa. While until recently critics focusing on the involvement of the country in the continent mainly came from the west, in the last two years the tables have turned and African leaders have made it clear that they realise China's involvement is not only narrowed to economics.
In 2009, during the fourth ministerial Forum on China-Africa Cooperation (FOCAC), the atmosphere was somewhat less amicable and more tense. When asked by a journalist about the criticism, Wen Jiabao, China's prime-minister, replied: "There have been allegations for a long time that China has come to Africa to plunder Africa's natural resources and practice neo-colonialism. The allegation in my view is totally untenable. Who is really asking these questions? Is it the African states or is it the West looking on nervously?"
However his question was answered when, Nigeria's then Minister of State for Foreign Affairs Bagudu Hirse blamed China for financing corrupt and repressive regimes: "We accept what China is doing. And we welcome their investment. But," he underlined, "they must understand that we are very sensitive to good governance and democracy. We can't start thinking of imposing sanctions on Guinea or Niger for bad governance and then they [China] go behind us and strike some other deals. We suspect they do that anyway. They will never confirm it, but we read the newspapers-we know what is going on".
Mr Hirse was directly referring to Beijing's decision to invest $7 billion in a mining deal in Guinea, announced by Guinea's military junta immediately after the September massacre of the opposition when over 150 protestors were killed.
At the forum Egyptian independent Member of Parliament Mustafa al-Gindi, also said he was "hugely fearful of China's way of doing business", before adding: "Whatever they say, it is a fact that the Chinese come to Africa not just with engineers and scientists-they are coming with farmers. It is neo-colonialism. [...] There are no ethics, no values."
So at a time where African leaders grow more suspicious of China's policies and plans towards the continent, with claims of neo-colonialism even being thrown in and with many African leaders still not decided to formally call for Gaddafi to step down, China certainly is conscious of the repercussions its move could have on its diplomatic and economic ties in the continent.
China nonetheless enjoyed a close relationship with Libya despite ups and downs, mainly linked to the Gaddafi regime challenging's behaviour. While prior to the uprising a statement from the Chinese foreign affairs website red:
"China and Libya maintained communication and coordination on international and regional affairs.Business ties enjoyed smooth development and two-way trade continued to grow. The two countries conducted fruitful cooperation in oil, communications, infrastructure development and other areas," the relationship between the two countries has not always been as smooth as the statement claims.
In the past, Gaddafi has been critical of China's stance on a number of international issues, and has even said the country has betrayed socialism. Despite having been in power for more than four decades, Gaddafi hasn't visited China since 1982 and the last visit by a Chinese head of state to Libya was nine years ago.
In 2006 Gaddafi received Chen Shui-bian, the former president of Taiwan in a high profile visit which implied Taiwan sovereignty, a move than deeply angered China.
Also, in 2009, China's state-owned oil and gas producer CNP was blocked from acquiring Venex, an oil company with assets in Libya and more recently CNP and others Chinese firms reported that their facilities had been attacked.
Also in 2009, the Libyan foreign minister praised China's support for the African "liberation movement," its unity and contribution to balancing the international system, "but", warned it should not be done "at the expense of the [African] people." He then added: "When we look at the reality on the ground we find that there is something akin to a Chinese invasion of the African continent. This is something that brings to mind the effects that colonialism had on the African continent in the past."
Still, China has also benefited from its relationship with Libya which produced $6.6 billion in bilateral trade and led to a railway agreement which would lay tracks between Tripoli and Sirte for $1.7 billion.
The reason behind China's involvement now appears to be clearer. With the US and the EU enjoying close relationship with the Transitional Council, which owns the new Central Bank of Libya and a National Oil Company, with Russia and Israel now also determined to profit from the opportunities their new friendship with the rebel movement could provide, it seems that contrarily to what many reported as China deviating from its own principles, the giant once again showed that its foreign policy is primordially driven by economic interests.