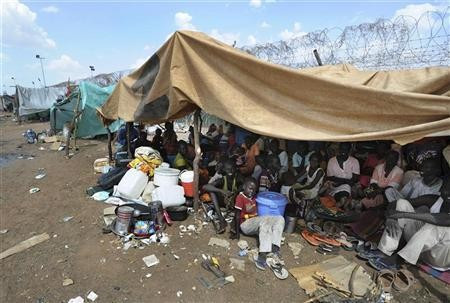 North Sudan has gathered and prepared what looked like a large convoy of troops in its Southern Kordofan oil state, the site of clashes that have threatened the peaceful secession of the south, a satellite monitoring group said on Wednesday.
The United Nations said both sides in the fighting had prevented its staff from visiting thousands of civilians caught up in the conflict and left humanitarian workers powerless and trapped in their compounds, according to Reuters.
More than 73,000 civilians have fled since clashes between the northern army and south-linked forces started in early June in the northern oil-producing state that borders the south, according to U.N. reports.
The violence has hampered preparations for the independence of south Sudan which is due to take place on Saturday, and raised fears that fighting could spread south over the border.
As Sudan prepares to lose its south, activists have accused Khartoum of trying to stamp its authority on rebellious areas left on the northern side of the border. Both sides are now at wars and keep on accusing each other of committing crimes.
Reports from various rights organisations however say thatthe northern troops have been targeting civilians from the Nuba people, many of whom sided with the south during decades of civil war and want greater autonomy for their region but Khartoum has denied the allegations.
On the other hand, the northern government accuses officials from the northern branch of south Sudan's governing party - the Sudan People's Liberation Movement (SPLM) - of being responsible for an uprising to try and seize control of the state just before the secession.
Media access is restricted in the state and it is impossible to confirm most of the reports coming from either sides; however Government spokesman Rabie Abdelati denied there was a new troop build-up.
"There is no justification in saying the government is targeting civilians. It is targeting the rebels and they are the ones who are terrorising civilians. The government's responsibility is to achieve security and peace," he told Reuters.
The U.S.-based Satellite Sentinel Project said it had identified "an apparent convoy of Sudan Armed Forces (northern army) vehicles and towed artillery, stretching over two kilometres and consistent with an infantry unit of at least regiment size -- equal to approximately 1,000 troops" in the state capital Kadugli, in pictures taken on Monday.
The satellite body also said other images showed military aircraft, including two helicopter gunships, signs that a northern military base in Kadugli had been reinforced and rocket launchers near the state's Nuba Mountains area.
"The Sudanese regime appears to be ignoring its commitment, holding to form, and positioning military assets for intensified offensive operations," said Enough Project co-founder John Prendergast in a statement.
An internal U.N. report, dated June 30, said its staff had not been able to monitor the fighting. "Rather than observe and monitor the movement of regular forces and armed groups we have been confined to our camps by these very entities," said the report.