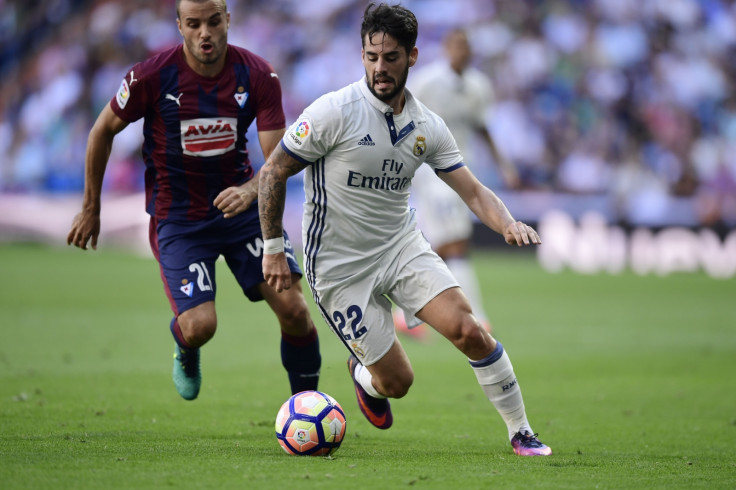 Isco has revealed he never considered leaving Real Madrid during the summer transfer window despite reports linking him with a move to Tottenham Hotspur. Meanwhile, the Spaniard hailed his decision to turn down Manchester City in the summer of 2013 to move to Los Blancos after having won two Champions League crowns during his first three campaigns at the Santiago Bernabeu.
The 24-year-old can't complain about the titles achieved at Real Madrid. However, his situation is not as ideal after having started only one game in La Liga during the opening part of the new season.
The lack of playing time has become customary since Carlo Ancelotti left the club. So having played a secondary role both under Rafa Benitez and Zinedine Zidane during the 2015-2016 campaign, there were a lot of speculations during the summer transfer window about his potential exit.
The Mirror reported in the dying days of the transfer window that the Spaniard was eventually considering a loan move to Tottenham Hotspur, with an option to buy him next summer.
Marca later supported the claims while on deadline day AS added that Mauricio Pochettino had personally approached the player to lure him to Tottenham, with a return on loan to Malaga being also on the table.
Isco, however, finally stayed at Real Madrid while the Spurs boss decided to bolster the middle of the park with the late addition of Moussa Sissoko from Newcastle. The Spaniard admitted to Marca that he would enjoy more playing time in other team but suggested that he never thought about leaving Real Madrid.
"It is possible that another team would play me more," Isco said but adding: "Not really (I didn't consider leaving), I have two years left on my Real contract, the club said nothing and I never looked to leave."
"I talked to him (Zidane) and knew it would be difficult to start each games, but I accepted the challenge. I want to train hard, show that I can be a starter and that's what I will try now and for the rest of the year."
But when asked specifically about whether the was a real option to return to Malaga, he added: "I spoke with the (Malaga) Sheikh several times and he told me wanted me back at home. I told him it was almost impossible because I was very happy in Madrid and Real Madrid would not want to let me go".
The situation has barely changed for Isco during the opening part of the season. However, his plans remain the same ahead of the January transfer window. "No, I (don't consider leaving) in January. I have my mind here, I'm focused on doing my best at Real Madrid, seizing the opportunities they give me. I only think about the present," he said, although admitting more uncertainty about the long-term as the club are yet to offer him a new deal, with his current one set to expire in 2018.
"It seems a little weird (Real Madrid haven't contacted me about a renewal) but I can't do anything. If they don't want me to renew, I won't go asking for it," he said. It's something for the club to decide, not me."
Isco is now in his fourth season at the Santiago Bernabeu after he joined them from Malaga in the summer of 2013. Then Manuel Pellegrini tried to lure him to Manchester City too after having worked with him at the La Liga side. However, Isco decided to snub the Chilean proposal to move to Real Madrid instead.
"I was playing at the U21 Europeans, it was my father who led the negotiations. It's true that Morata got to me a bit because I wanted to be with him," Isco recalled when asked about his decision to turn down Manchester City. "In the end the Madrid is Madrid. It is the best in the world, it's very difficult to say no. And I had the intuition that sooner or later would come La Décima, because they had many years without winning the Champions League... and I was right."