The Islamic State (Isis) has released the latest issue of its propaganda online magazine, Dabiq, showing a photo of the purported improvised bomb that brought down the Metrojet Russian plane in the Sinai. The magazine featured an image of a Schweppes soft drink can with the caption "Image of the IED used to bring down the Russian airliner".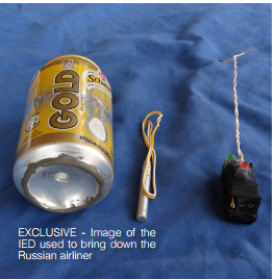 In the issue, IS said it initially decided to bring down a plane "belonging to a nation in the American-led Western coalition against the Islamic State" after discovering a way to compromise security at Egypt's Sharm el-Sheikh International airport.
The target was changed to a Russian plane after president Vladimir Putin decided to attack the jihadist group with air strikes in Syria and Iraq, says IS.
"A bomb was smuggled onto the airplane, leading to the deaths of 219 Russians and 5 other crusaders only a month after Russia's thoughtless decision," said Dabiq.
This comes comes after Russia's security chief has admitted that a "terror act" brought down Russian Metrojet flight 9268 in Egypt's Sinai. FSB chief Alexander Bortnikov said a bomb went off on the plane after traces of explosives were found in the wreckage. The Russian A321 plane was allegedly blown up by a home-made explosive device and up to 1.5kg of TNT were believed to be on board.
The 12th issue of Dabiq is entitled 'Just Terror' and mentions last Friday's Paris terror attacks that left 129 dead and hundreds wounded.