British intelligence officers are in the process of examining an Islamic State (Isis) video which claims to show the grisly execution of 'British spies' and threatens terror attacks against the United Kingdom.
A spokesman for the Foreign and Commonwealth Office told IBTimes UK that officials were aware of the video, which shows apparently British members of the Jihadi group including a small child, and were in the process of examining it.
Authorities believe the purpose of the propaganda video is to divert attention away from recent losses incurred on the ground by the IS (Daesh). In the past week, the coalition against the militant group has been dealt a body blow to Islamic State retaking Ramadi in the west of the country and killing a number of its leaders.
The video, which bears all the usual brutal and highly stylised hallmarks of IS propaganda, lasts ten minutes and shows a young child which a British accent threatening to kill non-believers. A man, wearing a black ski mask and also apparently British, then threatens the UK and the British Prime Minister David Cameron. Experts will carry out voice-print analysis on the recordings, comparing the voice of the masked jihadi with individuals known to have gone to Iraq and Syria.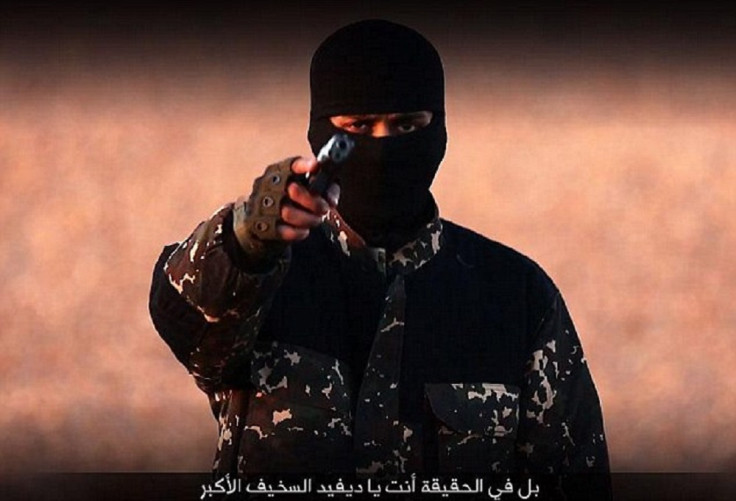 "How strange it is that the leader of a small island threatens us with a handful of planes. One would have thought you would have learned the lessons of your pathetic master in Washington and his failed campaign against Islamic State," he says
"It seems that you, just like your predecessors Blair and Brown, are just as arrogant and foolish. David, only a fool would wage war against a land where the law of Allah reigns supreme."
Calling Cameron an "imbecile" and "slave of the White House, mule of the Jews," the masked man then asks if those who are fighting for him under "minimum wage" want to continue to fight Isis (Daesh). The militants goes on to call the UK a "small island" with a "handful of planes".
Islamic State's earliest propaganda prominently featured British militant Mohammed Emwazi, dubbed Jihadi John. Emwazi carried out the executions of journalists and James Foley and Steven Sotloff as well as British aid workers David Haines and Alan Henning. He was killed by a US air strike just a day before the Paris Terror attacks which left 130 civilians dead. Less than a month ago MP's voted to bomb IS targets in Syria as well as Iraq.