The west London rapper identified by The Sunday Times as 'Jihadi John' – the Isis (Islamic State) member who beheaded two American journalists and two British aid workers – may also be a member of hactivist group Anonymous.
Abdel-Majed Abdel Bary, who goes by the rap name Jinn Matic or L Jinny, features in a music video uploaded to YouTube in February 2013 by a user named "AboutAnonymousTM". In the video, Bary appears outside central London locations including St Paul's Cathedral – the site of the Occupy London protest – and is flanked by people wearing Guy Fawkes masks, which have become synonymous with the Anonymous movement.
The video starts with a disclaimer that says: "This track and video constitutes an anthem created on behalf of Anonymous but does not necessarily reflect the views or beliefs of the artists involved."
(Scroll down for video)
YouTube users have commented on the video, which has been viewed more than 6,000 times, discussing the link between Anonymous and the alleged Islamic State executioner.
Adam Parry wrote: "AboutAnonymous – Think you should take this down or do you support IS terrorists?"
Another user said: "You do not represent what Anonymous is all about. America is coming for you. Expect us."
Others have been more focused on Bary's musical abilities. Lorn Taylor posted: "Look, a despicable human being capable of cutting off a mans [sic] head with zero rapping skills".
A sub-Reddit forum dedicated to discussing Anonymous' activities contains a link to Bary's "Anonymous anthem", with the title: Daily reminder Jihadi John the Isis beheader was an Anon.
The format of the Anonymous collective means anyone can declare themselves a 'member', as its decentralised command centre means there are no orders or directives, just a overarching sense of shared ideas. Anonymous has previously voiced its displeasure with Isis, and recently declared the terrorist group is 'in their sights.'
Although Bary's brutal role in IS – the jihadi organisation taking over large swathes of Iraq and Syria – has not been confirmed, the Londoner has been identified by MI5 and the FBI as a key suspect in the beheading of two American journalists, James Foley and Steven Sotloff, and British aid workers David Haines and Alan Henning.
Foley, Sotloff, Haines and Henning were killed in a series of high-profile videos posted to YouTube by IS, and speculation was rife regarding the identity of their killer, who spoke with an English accent.
Bary, 23, left his home in the rich London suburb of Maida Vale in 2013 to take up the fight against Bashar al-Assad in Syria.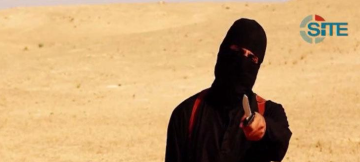 Some of his lyrics have provided chilling clues to his growing disillusionment with the West.
In a video uploaded in June 2013, Bary raps about letting "a brother live his life in peace" and hints at growing isolation.
"I walk through my hometown looking for love. He tapped me on my shoulder and told me that there wouldn't be much, because we're surrounded by nothing but black hearts", he raps.
Bary is also the son of an Egyptian-born militant who is awaiting trial on terror charges in New York tied to the deadly 1998 bombings of US embassies in Kenya and Tanzania.
The young Brit was reportedly radicalised by followers of firebrand Islamist preacher Anjem Choudary. He wrote on Twitter: "The lions are coming for you soon you filthy kuffs [infidels]. Beheadings in your own back yard soon."