A French Jihadist fighting with the Islamic State in Syria has apparently taken to Twitter to deny he appears in a beheading video released by the extremist group.
Authorities in Paris named Mickael Dos Santos, 22, from the suburb of Champigny-sur-Marne, east of the capital, as the second French national featured in footage showing the summary killing of a group of Syrian soldiers as well as a US aid worker.
Dos Santos's mother and grandmother also confirmed that the Muslim convert does appear in the graphic video.
However in the last few hours a Twitter account under his nom de guerre - Abou Uthman - was created with the specific intent to rebuff the accusation.
"I clearly announce that is not me in the video," user @Abou_Uthman_6 wrote.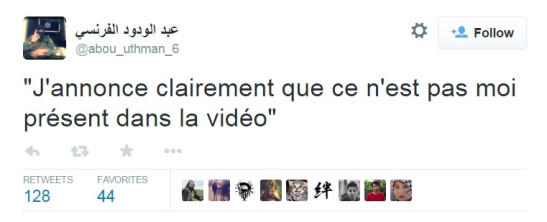 The tweet's authenticity could not be independently verified. However, Dos Santos is known to have run another five accounts under the same name on the social media platform. Those accounts have been suspended.
Earlier, two well-respected French journalists cast doubt on Dos Santos's presence in the video.
RFI radio's David Thomson said that five separate sources within the Islamic State group denied the fighter, originally from Portugal, was one of the 18 Islamist militants seen slashing the throats of as many soldiers loyal to the regime of Bashar al-Assad in a 16-minute video circulated online at the weekend.
Wassim Nasr, from France 24 also expressed doubts while Islamism expert Romain Caillet claimed the bearded man in the footage was actually a Syrian fighter.
Shortly after the video was published, French authorities named 22-year-old Maxime Hauchard, from Normandy, as one of the jihadists in it, while it took then longer to confirm Dos Santos's identity.
If confirmed, it would be the second case of mistaken identity related to the same video.
Another featured fighter was initially reported to be Cardiff medical student Nasser Muthana, with his father confirming the identity. However, video experts later said it was someone else.
Dos Santos travelled to Syria in August 2013 and has made no secret of having joined the Islamic State group.
His social media postings included numerous graphic photos depicting killings and beheadings of rival fighters and his involvement in the extremist group was known to French authorities.
"He is known to our [intelligence] services as he tends to claim responsibility for violent acts on social media," security sources told Le Monde newspaper.
According to Le Parisien newspaper, he left behind a farewell letter, in which he urged his Christian parents to convert to Islam.
"I love you mom, it might be that I haven't showed it to you a lot but I love you very much and dad too," he wrote. "I will never forget you. Convert to Islam Mom and you will be happy. Convert to Islam and we will see each other in heaven."