News of the circulation of a video apparently showing the aftermath of the beheading of US aid worker Peter Kassig – now known by his Islamic name Abdul-Rahman – has drawn swift response from across the world.
In a statement on a Facebook page, "Mercy for Abdul-Rahman Kassig – formerly known as Peter", the Kassig family wrote: "We are aware of the news reports being circulated about our treasured son and are waiting for confirmation from the government as to the authenticity of these reports. We will have no other statement at this time and ask that you please respect our privacy."
Kassig's family added a request that news organisations refrain from showing stills or videos from the barbaric execution of Kassig apparently at the hands of "Jihadi John" and around 16 Syrians seen being beheaded in the same video.
"The family respectfully asks that the news media avoid playing into the hostage takers' hands and refrain from publishing or broadcasting photographs or video distributed by the hostage takers.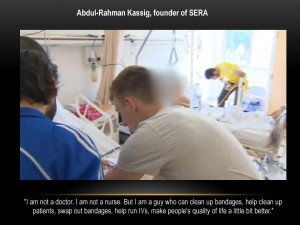 "We prefer our son is written about and remembered for his important work and the love he shared with friends and family, not in the manner the hostage takers would use to manipulate Americans and further their cause."
Prime Minister David Cameron said: "These beheadings show once again what a depraved organisation this is. Like others who have been murdered in cold blood by Isil (Islamic State), Abdul-Rahman Kassig was a selfless humanitarian worker who had gone to the region to help care for those fleeing the Syrian conflict.
"This underlines the deplorable depths to which these terrorists are prepared to go – savagely murdering a compassionate man. My heart goes out tonight to Abdul-Rahman's family."
On Twitter, Lord Dannatt said that UK and US "may have to think the unthinkable and engage western forces on the ground".
In the US, speaking before the video was confirmed as genuine, National Security Council NSC spokeswoman Bernadette Meehan said: "If confirmed, we are appalled by the brutal murder of an innocent American aid worker and we express our deepest condolences to his family and friends."
Australian Prime Minister Tony Abbott, having just hosted the G20 summit, said in a joint news conference with German chancellor Angela Merkel: "I don't have any confirmation of the authenticity of any new video so I don't want to comment on specifics just to say that this is a death cult, it can't be dignified with any other title.
"It has nothing to do with religion, it mocks God, it mocks Islam, it's nothing but a death cult and one of the many reasons we are fiercely taking action against this death cult.
"It's a threat everywhere, it's declared war on the world."
UPDATE: the video has now been confirmed as genuine. More soon