Isis letter reveals tribal rifts in Afghanistan faction amid war with Taliban and US
IS affiliate Khorasan Province consists mainly of disgruntled former Taliban and other insurgents from South and Central Asia.
A letter drafted by a senior Islamic State militant and obtained by The Associated Press points to a growing power struggle within the group's Afghan affiliate, pitting notoriously fierce Uzbek fighters against Pakistanis seen as too close to that country's powerful intelligence service.
The rumblings of discontent come as the IS affiliate, which refers to itself as the Khorasan Province, is at war with both the US-backed government and the more well-established Taliban, with which it differs on tactics, leadership and ideology.
The IS affiliate emerged in 2014 and refers to itself as the Khorasan Province, an ancient term for an area that includes parts of Afghanistan, Iran and Central Asian states. It has pledged allegiance to the IS group in Iraq and Syria but consists mainly of disgruntled former Taliban and other insurgents from South and Central Asia.
The letter, obtained by a jihadi fighter with ties to the IS affiliate and then provided to AP, was signed by Moawiya Uzbekistani, the apparent nom de guerre of an Uzbek militant, who claims to have become the leader of the IS affiliate after the death of Abdul Hasib, who was killed in a joint US-Afghan operation in April.
Uzbekistani rejects reports that another fighter, who he identifies as Sheikh Aslam Farouqi, has been chosen to lead the group and suggests Pakistan's Inter-Services Intelligence is behind the rumors.
"Even if this information is true, then it's the ISI of Pakistan behind this function and we don't accept it, because we all fight for Allah and his religion," the letter says, warning against "infidels, intelligence services and the deceitful" acting from "behind the scenes."
Militants belonging to allied groups said Central Asian fighters as well as Afghans want the leadership of the group taken out of Pakistani hands, even though the founder of IS in Afghanistan, Hafiz Saeed Khan, was a Pakistani tribesman. Khan was killed in a US drone strike in July 2016.
The rift seemed to widen with a recent IS meeting in Pakistan's Orakzai tribal belt, from where Khan originates, according to two people familiar with the meeting, which was said to have been attended by 40 senior IS commanders.
The council appointed Saif-ul Islam, a close Pakistani ally of Saeed, as the new leader. With the many names used by insurgents it wasn't immediately clear if Aslam Farouqi and Saif-ul Islam were the same person. Sheikh Abdul Qadir Khorasani, an Afghan from the eastern Kunar province, was appointed deputy, they said. The militants all spoke on condition of anonymity as they were not authorized to brief reporters.
There has been no official IS confirmation of a new leader and in Washington intelligence officials refused to comment.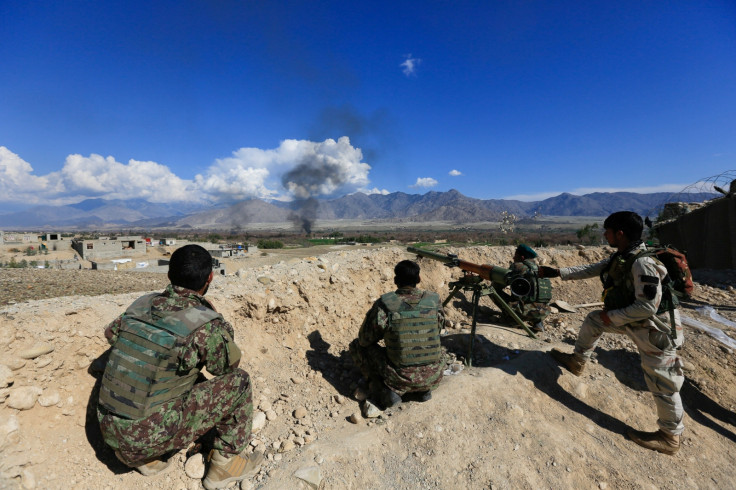 More than 16 years after the US invaded Afghanistan to end Taliban rule and flush out al-Qaida, the mountainous regions along the Afghan-Pakistani border are still home to an array of extremist groups. Pakistan's spy service is said to have connections to some, including the Afghan Taliban, even as it battles other groups that threaten its own citizens.
The growing assertiveness of the Uzbek militants within the IS affiliate is particularly worrying.
Uzbek fighters were so vicious in Pakistan's South Waziristan province that they drove the area's fractious tribesmen to unite to push them out in 2015. They then based themselves in North Waziristan before being driven across the border by a Pakistani military offensive. They have since clashed with the Taliban in different parts of Afghanistan and claimed responsibility for brazen and deadly attacks in Kabul, including a daytime assault and siege of an Afghan military hospital that killed 50 people earlier this year.
Arkady Dubnov, a Moscow-based expert on Central Asian militants, says the Uzbeks' reputation for brutality is likely rooted in the fact that they are "aliens" in much of Afghanistan and Pakistan, which are dominated by other ethnic groups.
That may also explain their tensions with the Afghan Taliban. While both IS and the Taliban are determined to overthrow the Afghan government and impose a harsh version of Islamic law, the former views itself as part of a global movement, while the latter confines its operations to Afghanistan.
Dubnov also noted that the son of Tahir Yuldashev, the powerful Uzbek leader of the outlawed Islamic Movement of Uzbekistan, who was killed in a US missile strike in Pakistan in 2009, is leading efforts to help expand IS influence in Afghanistan.
Central Asian fighters are now a key pillar of support for the IS affiliate, according to Anatol Lieven, a regional expert at Georgetown University's Qatar campus.
"They have been encouraged to move to IS because of the longstanding Taliban declaration that they are not an international jihadi force," he said.
"The estimates of the number of Uzbeks, Tajiks, Turkmen and other fighters from the former USSR living in Afghanistan that I heard ranged from 6,000 to 25,000," said Lieven adding many have intermarried with Afghans of a similar ethnic background.
© Copyright IBTimes 2023. All rights reserved.