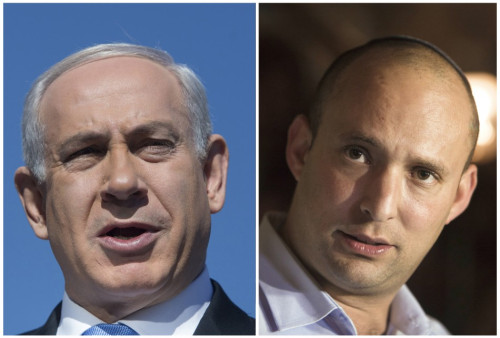 The office of Benjamin Netanyahu has issued an ultimatum demanding right-wing leader Naftali Bennett apologise over his criticism of the PM or be fired.
According to sources, Bennett, of the religious-nationalist Jewish Home Party, was given until 10am on 2 February to apologise to Netanyahu.
A senior source in the PM bureau said that Bennett must apologise "clearly and sharply, in public" for his personal attack against Netanyahu.
The bureau also said that the government can continue without Bennett.
"It was clarified to Bennett that there a lack of apology comes at a price," the source told Haaretz newspaper.
"Nobody will teach Netanyahu what love of Israel is, and what concern for the security of its citizens is. With all of Bennett's claims, it's not clear why he's stuck to a seat in the government."
Bennett, 41, delivered an aggressive speech against the prime minister who said that he wants Jewish settlers to be given the choice of living under future Palestinian rule in the West Bank in the event of a peace deal.
The bellicose right-winger even seemed to mock Netanyahu. "Why can't Palestinians rule over Jews? Because they'll kill them," he said.
"Why should Jews live in Tel Aviv with Israeli sovereignty and in Eli and Hebron under Palestinian sovereignty? Open up the Book of Genesis and form an opinion. I demand that this idea be removed from the agenda.
"Our forefathers and our descendants will not forgive an Israeli leader who gives up our country and divides our capital."
The political row shows the internal political differences in Israel that could hinder any peace deal. Netanyahu's radical coalition partners have deep differences regarding the establishment of a Palestinian state.
The crack in the coalition took place as Secretary of State John Kerry is poised to present a framework laying out the main principles for continuing the negotiations.
Bennett already made it clear that he will resign if Israel signs the document. He said that the idea of settlers becoming minority citizens in a future Palestinian state reflected "the loss of a moral compass".
"We did not return to the land of Israel after two thousand years of longing to live under the government of Mahmoud Abbas."
Netanyahu himself distanced from the Kerry framework, saying: "These are American positions. Israel does not have to agree to everything America presents".