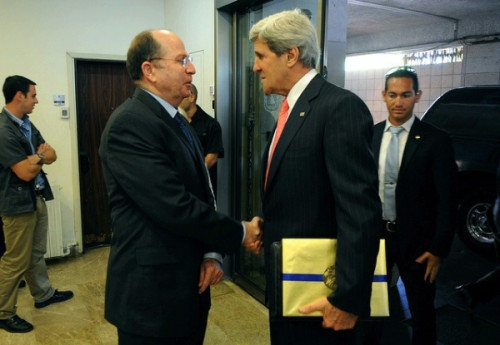 Israel's defence minister Moshe Yaalon has strongly criticised US secretary of state John Kerry over his "messianic" quest for peace between Israel and Palestine.
"Secretary of state John Kerry – who came here very determined, and operates based upon an unfathomable obsession and a messianic feeling – cannot teach me anything about the Palestinians," Yaalon was quoted as saying, in an unsourced report in the Yedioth Ahronoth newspaper.
"The American security plan that was presented to us is not worth the paper it was written on. It contains neither security nor peace.
"Only our continued presence in Judea and Samaria and the Jordan River will guarantee that Ben Gurion Airport and (the northern city of) Netanya do not become targets for missiles from every direction," Yaalon continued.
The report appeared hours after Biden left Israel, where he attended the funeral of former leader Ariel Sharon and held peace talks with prime minister Benjamin Netanyahu.
"All that can 'save us' is for John Kerry to win a Nobel Prize and leave us in peace," Yaalon continued.
Kerry has been involved in recent weeks in negotiations to persuade Israel and the Palestinians to agree on an outline proposal addressing the core issues of their conflict.
"I can promise you that America will stand by the side of Israel every step of the way. It should rededicate every [effort] to the possibility of a just, appropriate and fair peace, which protects the security of Israel, guarantees that Israel's security will be protected," Kerry said during a ceremony commemorating the anniversary of former Israeli prime minister Yitzhak Rabin's assassination.
Yaalon has also expressed doubts whether Palestinian president Mahmoud Abbas would be still able to maintain control in the West Bank after any Israeli pull-out.
"Abu Mazen (Abbas) lives by our sword [...]The moment we leave Judea and Samaria he's finished," Yaalon said, according to the newspaper.
In response, Israel Justice Minister Tzipi Livni, who is managing talks with the Palestinians, spoke out in defence of Kerry and the peace efforts.
The American-brokered peace talks began in July and stipulated a nine-month window, until April, to reach a final status agreement.
The negotiations have shown very little progress as Israel is demanding to maintain a military presence in the Jordan Valley, between Jordan and the occupied West Bank.
Pope Francis has also urged an Israel-Palestine deal.