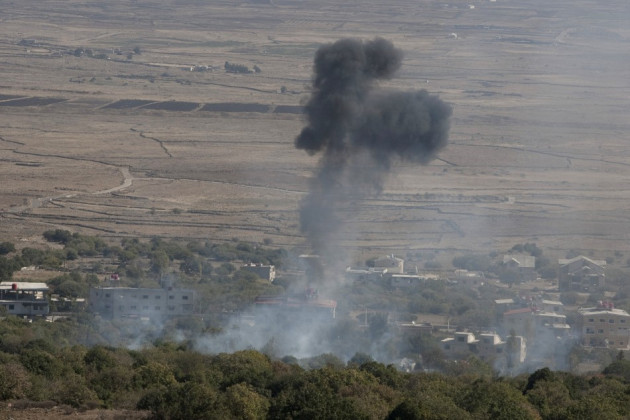 Israeli tanks claim to have struck "direct hits" on a Syrian target in response to a stray missile which landed in the Israeli-controlled Golan Heights.
On Sunday, a mortar fired from inside the Syrian border landed near an Israeli military post in Golan, although it is unclear whether the shell was fired by troops loyal to President Bashar al-Assad or the rebels who oppose them in the country's ongoing civil war.
In response, Israel says its tanks have fired on the source of the mortar, and struck Syrian mobile artillery in their bombardment.
A statement from the Israeli Defence Forces said: "A short while ago, a mortar shell hit an open area in the vicinity of an [IDF] post in the central Golan Heights, as part of the internal conflict inside Syria, causing no damage or injuries.
"In response, IDF soldiers fired tank shells towards the source of the fire, confirming direct hits. The IDF has filed a complaint with the UN forces operating in the area, stating that fire emanating from Syria into Israel will not be tolerated and shall be responded to with severity."
On Sunday, Israel's ground forces fired a warning shot at the Syrian military after an earlier round of wayward shelling. It was the first time Israel had fired on Syria since the 1973 Yom Kippur War.
Israel has also sent a warning message to the UN saying that any further firing into Israel will end up "in a real response".
However UN secretary-general Ban Ki-moon has appealed for restraint from both sides, saying he is "deeply concerned by the potential for escalation" and calling for "Syria and Israel to uphold the Disengagement Agreement, respect their mutual obligations, and halt firing of any kind across the ceasefire line".
The latest development comes as Israel is facing a barrage of missiles from Gaza, forcing the IDF to monitor fire along both the northern and southern borders. Palestinian militants fired 13 rockets into southern Israel, injuring four.
The Israeli Air Force struck three targets in the Gaza Strip overnight Sunday. The warplanes targeted a tunnel used for terrorist purposes, a weapons storage facility in the northern Strip, and a rocket-launching site in the south of the 360 sq km tract, the IDF Spokesman's Office said in a statement.