Israel: Ultra-Orthodox Jews Daubed 'Thanks Hitler' at Yad Vashem Holocaust Memorial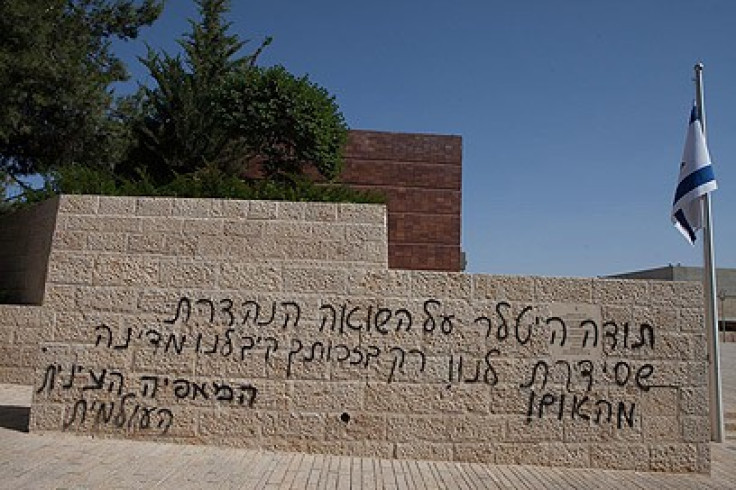 Four ultra-Orthodox Jews have been arrested in Israel under suspicion of defacing the Yad Vashem Holocaust memorial in Jerusalem with hate and pro-Hitler graffiti.
The Jerusalem police said the suspects have also been linked to other vandalism cases in the greater Jerusalem area. They have admitted daubing the site.
More than 10 slogans painted in black, red and white were found in Warsaw Ghetto Square and on the memorial to Jews sent off to the Nazi death camps. Some slogans praised Hitler "Thanks Hitler for the wonderful Holocaust you organised for us!" read one. "Only because of you we received a state."
Another one said: "Jews, wake up, the evil regime does not protect us, it only endangers us.
"There will be an alternative museum to Yad Vashem - the selection," "The Zionist leaders wanted the Holocaust", "The war of the Zionist regime is not the war of the Jewish people" and "If Hitler hadn't existed, the Zionists would have invented him." were also scrawled at the site.
From the beginning, police suspected that ultra-Orthodox Jews were to blame for the attack as one painted slogan read, "Haredi World Committee".
A small number of ultra-Orthodox Jews believe a Jewish state can be set up only after the coming of the Messiah and Israel's founders conspired with Hitler to bring about the Jewish state.
The four suspects belong to the Neturei Karta sect, a small but active anti-Zionist sect that believes that the founding of the State of Israel was a sin.
Police raided the houses of the suspects and seized a large amount of texts condemning Zionism, Israel and PLO flags, as well as paint.
After the attack, Yad Vashem director Avner Shalev said that "a red line has been crossed".
© Copyright IBTimes 2023. All rights reserved.