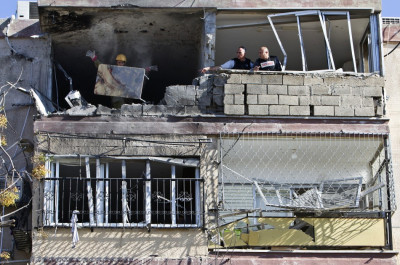 Israel continued shelling Gaza after three Israelis were killed by a rocket launched from the Strip, amid a deepening crisis that is raising fears of a widening conflict.
"100 medium and long range rocket launch and infrastructure sites across the Gaza Strip," were targeted by Israel in response to Palestinian militants' rocket launches, the Israel Defence Force [IDF] said.
Israel said its Iron Dome interceptor system shot down about 145 of the more than 200 rockets that had been fired towards its territory.
Israeli warplanes dropped leaflets on Gaza warning residents to stay away from Hamas' militants and facilities.
"The leaflets stress that Hamas is dragging the region toward violence, and that the IDF is prepared to defend the residents of the State of Israel until quiet is restored to the region," Israel forces said.
"All options are on the table," IDF's official account tweeted. "If necessary, the IDF is ready to initiate a ground operation in Gaza."
Yesterday Israel pounded the Hamas-ruled Gaza Strip with aircraft, tanks and naval gunboats, killing 13 Palestinians, including four children and five militants, and wounding a further 100.
In response, a rocket fired from Gaza killed three people - two women and a man - in Kiryat Malachi southern Israel when it hit an apartment building. Two children were also injured.
Authorities declared a state of emergency in southern Israel, where one million people live within Hamas' rocket range.
Businesses, schools and shopping centres have been closed in the area.
"People won't be outside. The minute they assassinated the Hamas military chief we knew an offensive had begun. We were waiting for it, and it's about time they did it. We have the right to live like other countries in the world," said Batya Katar, a resident of Sderot, a town just a couple of miles away from the border.
Exchange of accusations on attacks' real reasons
The head of the Hamas military wing Ahmed Jabari, who Israel believed to be responsible for all of the attacks on its territory form the Gaza Strip in the past ten years, was killed in his car by an Israeli strike.
The assassination followed, and was followed by, rocket barrages against Israel from Gaza. Hamas warned Israel it had "opened hell gates" on itself.
At Jabari's funeral in Gaza City, large crowds of supporters fired guns in the air and vowed revenge.
The UN Security Council called an emergency closed door session to deal with the escalating crisis.
Palestinian representative accused Israel of having timed the attacks to wreck Palestine's attempt to be recognised as observer member by the UN Assembly in a November 29 vote. Israel denied the allegations.
"This all started by an anti-tank missile that was launched against an Israeli jeep. From who? From Hamas, an internationally recognized terrorist organization, that has turned Gaza into a dump of ammunition coming in from weapons from Iran, from Libya, from Sudan that have been launched against Israeli civilians day in and day out," Israel's representative to the UN Ron Prosor said.
"This is unacceptable. Every state, every nation, every government has a right to defend its cities. We will not allow that to continue. Any distortion of that sequence of events or facts will not only not lead to peace in the region but on the contrary will lead to additional violence."
However some Israeli residents in the area targeted by Hamas' rockets have accused their government of launching the military operation as a stunt in view of January elections.
"Politicians just want to use us for elections," a neighbour of the three people that died in Kiryat Malachi told The Times.