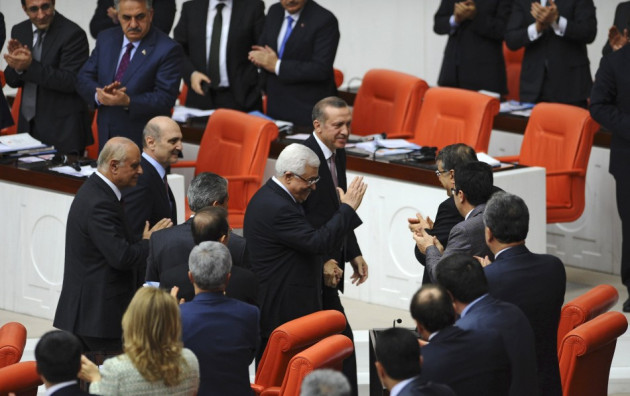 Israeli prime minister, Benjamin Netanyahu, is trying to win support from Turkey, even though his Palestinian counterpart Mahmoud Abbas is currently visiting Turkish ministers in Ankara.
Turkey is seen is strategically important in Israel, and Netanyahu told journalists that a healthy relationship was "in the best interest of both countries".
He added that the two countries face similar threats, which will help bring them closer. The strategically vital relations between them were once believed to have the potential to alter the political situation in the whole Middle East region.
But ties hit a new low in 2010 after Israeli naval forces raided a ship carrying humanitarian aid to Gaza, killing nine Turks. Israel justified its action by saying the shipment violated the Gaza blockade.
Even during November's eight-day Israel-Gaza conflict, Turkey maintained its strong opposition to Israeli forces, terming the attack on Gaza a "crime".
Netanyahu's gesture to Turkey came at a time when his arch rival, Abbas, was visiting Ankara.
Abbas has thanked Turkey for its support during the UN General Assembly vote which upgraded the status of Palestine.
"We want to give peace a chance. We are calling on Israel to fulfil its duty," he told the Turkish parliament. "We are calling on Israel to stop building settlements in the West Bank, to release Palestinian prisoners and to return to the negotiations that were suspended in 2008."
Turkey is the first country to be visited by Abbas after the UN resolution. "I will not forget December 10, 2012, and I'm sure that the Palestinian people will remember this historic day. I'm paying my first official visit to Turkey after statehood was recognised in the UN. I'm grateful for your economic, diplomatic and political support," said Abbas. His speech received a standing ovation.
Abbas will hold talks with his Turkish counterpart, Abdullah Gul, and Prime Minister Recep Tayyip Erdogan.