Israel Says 'We Are Not At War With The People Of Gaza' As Death Toll Passes 10,000
Hamas militants and IDF soldiers come face-to-face as Israel continues to encircle its notorious tunnel network.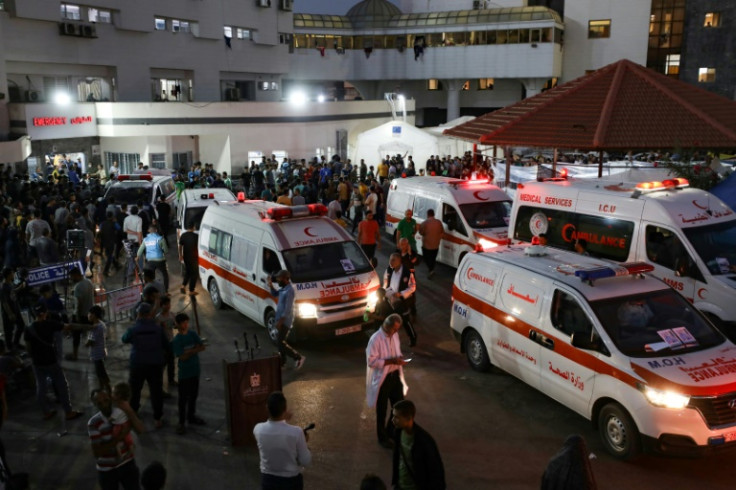 Since the proscribed terrorist organisation, Hamas, launched an unprecedented attack on Israeli civilians on 7 October, the Israeli Defence Force (IDF) has been bombarding Gaza with air strikes.
The Hamas invasion resulted in 1,400 civilians being killed and more than 200 being kidnapped.
The IDF has since stated that the troops will not conform to any ceasefire until Hamas surrender and release the civilians that they captured last month.
The Ambassador of Israel to the UN, Gilad Erdan, told the UN that once Hamas lay down their arms, turn themselves in and return all Israeli civilians, "the war would end immediately".
There are currently around 240 Israeli nationals, including babies as young as nine months old, being held by Hamas militants in Gaza as hostages, reports the IDF.
Nine-month-old baby Kfir has been named as one of the youngest unaccounted-for children who was seized by Hamas and taken into Gaza.
According to family members, the young child was taken alongside his four-year-old brother Ariel.
In recent weeks, an overwhelming majority of nations, 120 countries, voted for a United Nations (UN) resolution that called for an "immediate, durable and sustainable humanitarian truce" in Gaza.
There have also been a number of pro-Palestine protests in support of a ceasefire across the globe, including Turkey, France, Germany, Afghanistan, Lebanon, the US and the UK.
The demonstration attracted more than 500,000 people in London, on Saturday 28 October.
Israel, together with the UK and the US, have rejected the calls for a ceasefire.
The IDF recently launched a ground assault that encircled the Palestinian enclave's biggest city, Gaza City.
In a statement posted on X, formerly Twitter, the IDF also declared: "We are not at war with the people of Gaza."
Israeli officials and Western military analysts have reported that the IDF has cut off the main roads that connect the north and the south of the city, which was once home to a huge 190,481 people.
This week, the Hamas-run Health Ministry also reported that in less than a month, more than 10,000 people have been killed by IDF airstrikes.
More than 3,800 of the deceased victims are children – says the Health Ministry in Gaza.
Although Israel has blamed Hamas for using its civilians as human shields, international authorities have growing concerns about the rapidly increasing death toll of Palestinian nationals.
Hamas fighters and Israeli soldiers have also been killed by the recent on-the-ground conflict.
At a news briefing last week, Daniel Hagari, a spokesperson for the IDF, noted that Israeli soldiers have been confronting Hamas militants in face-to-face conflict battles.
From Hamas and Israeli military statements, satellite images and footage posted on social media, it is clear that the IDF has encircled Gaza City.
Gaza City is known as the main base of Hamas which is notoriously known for operating in a tunnel network underneath the densely populated area.
"Part of the delicate treatment of the tunnels is because we know that hostages are being held there and used as human shields," reported the IDF's former Head of International Counterterrorism, Yoram Schweitzer.
"We'll see how we are going to tackle this great challenge because they built an undercity," Schweitzer added.
In an attempt to separate northern Gaza from the south of the Strip, where Israel previously ordered Palestinians to relocate, Michael A. Horowitz, a Jerusalem-based analyst, said that the IDF have been attacking from Gaza's eastern flank and reaching as far as the coastline.
On Thursday last week, Israeli Prime Minister Benjamin Netanyahu, said: "We are advancing... Nothing will stop us."
In a video posted by Hamas, the militants reportedly killed four Israeli soldiers in an overnight battle. The video footage showed one member of the organisation planting a bomb on a tank belonging to the IDF.
© Copyright IBTimes 2023. All rights reserved.