UNRWA Says IDF Killed Aid Workers And Gaza Is At 'Breaking Point'
UNRWA accuse Hamas of theft and worries that "civil order" has collapsed in Gaza as thousands of desperate civilians break into UN warehouses and steal aid.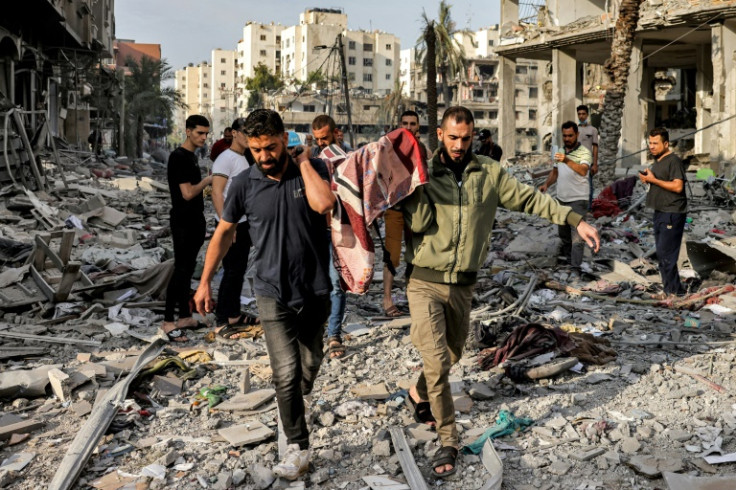 On Sunday 29 October, the United Nations (UN) said that Gaza has officially reached breaking point after thousands of desperate civilians looted several aid distribution sites.
This news comes after UN Secretary-General António Guterres issued a statement last week that spoke of supplies trickling into the enclave that is "facing a total collapse with unimaginable consequences for more than 2 million civilians".
The statement went on to declare that "the United Nations will not be able to continue to deliver inside Gaza without an immediate and fundamental shift in how aid is going in".
On Sunday, the UN warned that "civil order" was beginning to collapse in Gaza.
Later, video footage that showed thousands of people taking food and emergency supplies from UN warehouses emerged on social media.
Footage from a storage unit in Khan Younis in southern Gaza, showed both adults and children dragging large bags of supplies away from the storage unit.
The large bags were frantically carried out of the warehouse and hoisted onto shoulders, cars or bicycles before being taken away.
In Deir al-Balah, a central town in Gaza, one of the looting sites was being used to store supplies and humanitarian aid that had been bought in by trucks that had crossed the Rafah crossing from Egypt when it opened on 21 October – according to the UNRWA.
The looting was "a worrying sign that civil order is starting to break down after three weeks of war and a tight siege," said UN Palestinian Refugee Agency (UNRWA)'s Gaza Chief Thomas White.
The "humanitarian aid coming into the Gaza Strip on trucks from Egypt is insufficient", said White, adding that "supplies on the market are running out".
So far, since the Rafah crossing was opened by Egypt, just 84 aid trucks have entered the strip. Before the conflict between Hamas and the IDF escalated, on Saturday 7 October, up to 500 aid trucks entered the Strip.
The UNRWA Chief continued to explain: "Thousands of people broke into several UNRWA warehouses and distribution centres in the middle and southern areas of the Gaza Strip, taking wheat flour and other basic survival items like hygiene supplies."
Just two weeks ago, UNRWA accused Hamas of stealing fuel and medical supplies that had been donated to refugees in Gaza City.
In a post shared on X, formerly Twitter, the agency wrote: "UNRWA received reports that yesterday a group of people with trucks purporting to be from the Ministry of Health of the de facto authorities in Gaza, removed fuel and medical equipment from the Agency's compound in Gaza City."
"Our staff were compelled to evacuate UNRWA headquarters in Gaza City on a few hours notice during the night of Friday 13 October. Since then, UNRWA has had no additional details about the removal of the assets," the post continued.
Writing again on X, the UNRWA concluded: "Security cameras that cover the entrance/exit to the UNRWA compound were damaged further to blasts from the conflict in previous days & ceased to operate."
While the agency suspiciously deleted their Hamas accusation, UN and Israeli officials confirmed that the robbery did happen.
According to Juliette Touma, UNRWA's Director of Communications in Jordan, the civilian looting of UN storage units in Gaza is an "indication that people in Gaza have reached a breaking point".
"The levels of frustration and despair are really very high, and people are hitting rock bottom when it comes to their patience, their ability to take more," Touma added.
While also recognising that the number of supplies entering Gaza, "don't correspond to the huge needs on the ground", Touma revealed that so far, the IDF's air strikes on the Hamas terror group have killed "59 colleagues at UNRWA".
© Copyright IBTimes 2023. All rights reserved.